With 29 days remaining until the film's debut, the official blog to promote Dragon Ball Z: Revival of "F" has updated with some words from Tenshinhan's latest voice actor, Hikaru Midorikawa:
こんにちは!ブルマよ。
映画公開まであと29日!
今日は天津飯役の緑川光さんからのコメントを頂戴したわ!

前作の時もオンエアから結構経っていたので、「あ、今映画をやるんだ!すごいな!」と思ったのですが、当時見ていた方も喜ぶし、これが初ドラゴンボールという方もいるだろうから、どういう反応が起こるのか興味深く思っていました。

今回は鳥山明先生が脚本から書かれたということで、自分のキャラをメインで考えたら、前よりも見せ場が多くなっていて嬉しかったです。
全キャラクターがメインで戦っているわけではないですが、昔のキャラクターが好きな方は嬉しいかな、という気がしています。
話の中で気功砲を打つのは久しぶりで、そのあたりをひっくるめて鳥山先生の脚本なので魅力が増している気がしています。
しかも今回はコスチュームの色が変わってますし、まんま一緒じゃないというところがときめきますね。
昔、サイヤ人が超サイヤ人になったというのもときめきましたし、何かしらどんどん変わっていくのがドラゴンボールらしさな気がするので、そこを見てほしいです。

悟空やベジータは漫画やアニメのキャラクターなのですが、声を当てている声優さんたちも不思議とまるで二次元に存在する職業かのように、こちら側も進化しているので、トータルで進化しているドラゴンボールを観にきていただきたいな、と思います。
みなさんが応援してくれる限り、ぼくらもまだまだ頑張れてもっと高みに上っていけると思いますので、是非ひきつづき応援をよろしくお願いいたします。

---

Hey, Bulma here!
Just 29 days left until the movie premieres!
Today we've got a comment from the voice of Tenshinhan, Hikaru Midorikawa!

It's been quite a while since the last one was on the air, so I thought "wow, they're doing another movie!" The people who watched it back in the day are happy, but I'm sure there'll also be people seeing Dragon Ball for the first time, so it'll be interesting to see what kind of reaction this gets.

Since Akira Toriyama-sensei wrote the script this time around, I'm happy that my character got more to do than last time.

Obviously there's no way for all the characters to get major roles in the fights, but I get the feeling people who like the old-school characters will enjoy this.

It's the first story in a long time where I've gotten to fire the Kikoho; I think that Toriyama-sensei's script has more charm because it includes lots of moments like that.

What's more, I've got a different colored costume this time, so it was exciting to get something that wasn't just the same as usual.

It reminds me of how exciting it was way back in the day when the Saiyans became Super Saiyans; things constantly changing is one of the things that makes Dragon Ball feel like Dragon Ball, so I hope people watch out for that.

Goku, Vegeta, and the rest of the gang are manga/anime characters, but even us voice artists have a profession that in a strange way seems to be confined to 2D; since we're evolving too, I want to see Dragon Ball evolve as a whole.

As long as everyone cheers us on, we'll do our best to keep climbing higher and higher, so please keep on supporting us.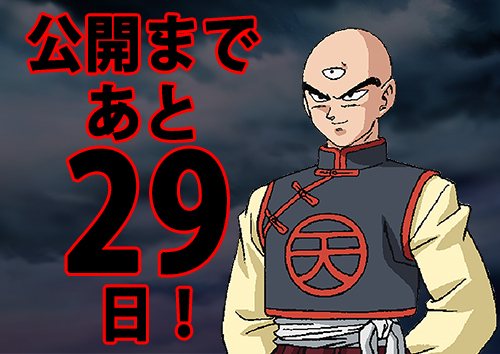 The story for Revival of "F", opening nationwide in Japan 18 April 2015 in 2D and IMAX 3D, is being crafted by original manga author Akira Toriyama, who stated he is writing it, "…as though it were a continuation of the manga when it was in serialization," and that while it will, "…of course be a continuation of the previous Battle of Gods," he has also, "…deliberately increased the amount of action scenes by a good deal." Tadayoshi Yamamuro, who worked for many years as character designer and animation supervisor on the Dragon Ball franchise, will serve as the film's director and animation supervisor. Norihito Sumitomo will return from Battle of Gods and the Majin Boo arc of Dragon Ball Kai for musical composition duties. Momoiro Clover Z will contribute a song alongside Maximum the Hormone, whose "F" will be used as a "battle song" during the film. Revival of "F" is set to bring back Freeza and will also include two new characters (Sorbet and Tagoma), feature Beerus and Whis again from Battle of Gods, and much more.
We will continue to keep tabs on this blog and translate whatever news it reveals, so stay tuned…!