The official website for the upcoming Nintendo 3DS game, Dragon Ball Z: Extreme Butōden, recently updated with an overview of first-pressing bonus materials and pre-order bonus items (stay tuned for more information on the latter!).
One of the first-pressing bonus items will be a downloadable version of Dragon Ball Z: Super Butōden 2, a 1993 game originally released on the Nintendo Super Famicom. As a part of this week's website overview, a tiny note details a rather significant change coming to this downloadable bonus game:
「ドラゴンボールZ 超武闘伝2」のBGMは差し替えを行っております。予めご了承ください。

---

The [original] background music of "Dragon Ball Z: Super Butōden 2" has been replaced. Please take note beforehand.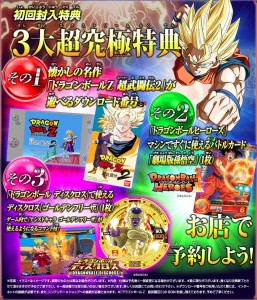 Fans of the expanded Dragon Ball universe of merchandise may remember that the game's soundtrack was actually composed by Kenji Yamamoto. The composer's score to Dragon Ball Kai was completely stripped out and replaced with the original Shunsuke Kikuchi score in 2011 when it was revealed that multiple songs may have been plagiarized. Later pressings of Raging Blast 2 on the PlayStation 3 and Xbox 360 also had their music replaced with previous game songs, while Dragon Ball Z: Budokai HD Collection had all of its Yamamoto compositions stripped and replaced in their entirety prior to its release.
Super Butōden 2 was included as-is within J Legend Retsuden in 2013, complete with all of its original music. Perhaps most notably, Cell's theme in the game is an expanded composition of "One of These Days" by Pink Floyd. Screen shots purportedly from the upcoming bonus downloadable version appear to have the same background and menu items as the J Legend Retsuden version.
Big thanks to Cold Skin for the heads-up!