First-press copies of Dragon Ball Z: Extreme Butōden, the upcoming Nintendo 3DS fighting game, will have retailer-specific bonus items — "Z-Assist" characters from Dragon Ball GT — as outlined on the game's official website this week.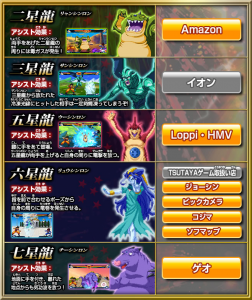 Amazon Japan will provide players with the Two-Star Dragon, which causes poison gas to appear around it.
ÆON will provide players with the Three-Star Dragon, which uses a "freezing beam" that can cause an opponent to freeze for a certain period of time.
Loppi and HMV will supply buyers with the Five-Star Dragon, which sends out bolts of electricity from his body when it raises its arms.
Tsutaya Daikanyama, Joshin, Biccamera, Kojima, and Sofmap will provide players with the Six-Star Dragon, which can cause whirlwinds around it.
GEO Online will provide players with the Seven-Star Dragon, which can attack an opponent farther away by touching the ground and causing a ki blast to come up from a distance.
The Two- and Six-Star Dragons were showcased — along with other Dragon Ball GT characters such as Pan and Super 17 — in the game's first TV commercial released earlier this week.
Dragon Ball Z: Extreme Butōden will launch in Japan 11 June 2015. First-press copies of the game will come packed with bonus content, including a downloadable version of the Super Famicom game Dragon Ball Z: Super Butōden 2 (previously included as a part of the J-Legend Retsuden compilation game). Arc System Works will develop the game for Bandai Namco. The developer previously worked on the Bukū… / Supersonic Warriors games on the Nintendo GameBoy Advance and DS.
Dragon Ball Z: Extreme Butōden is currently available for pre-order from CDJapan. The Nintendo 3DS / New Nintendo 3DS are region-locked; a Japanese system is required for the game to play.
Dragon Ball Kai: Ultimate Butoden, the most recent game to receive the "Butōden" branding (and first since the 32-bit generation), was released in February 2011. The game was never localized outside of Japan.