With a series like Dragon Ball, comments from author Akira Toriyama hold a lot of weight. The man traditionally hides behind-the-scenes, and though he was trotted out for Q&As more than ever before during the Battle of Gods promotional circuit, he still remained as elusively off-camera as ever before, choosing to provide prepared text answers.
One of the things we at Kanzenshuu love doing is diving into the archives while simultaneously keeping up with newer material. It can be fascinating to compare answers and viewpoints that Toriyama provides over a period of decades. We feel that it provides a deeper understanding of Dragon Ball and of Akira Toriyama himself.
With that being said, we are excited to provide translations of two in-depth and surprisingly-candid Akira Toriyama interviews.
The first new interview translation comes from the January 1997 issue ("Issue 3.01") of the initial Japanese edition of WIRED magazine, which ran for a little less than four years from 1994 to 1998; it now exists as a special quarterly issue of the Japanese edition of GQ, relaunched in 2011. In addition to translations of articles from its American equivalent, it also had Japan-original material, and for their second-anniversary issue (published 21 November 1996), they had a special two-page interview with the man himself. This is notable principally for two things: being published during the time that Dragon Ball GT was still on the air, and Toriyama's comments on Goku's personality, which he repeated nearly verbatim 17 years later in the run-up to Battle of Gods (see below).
There's how, basically, Son Goku from Dragon Ball doesn't fight for the sake of others, but because he wants to fight against strong guys. So once Dragon Ball got animated, at any rate, I've always been dissatisfied with the "righteous hero"-type portrayal they gave him. I guess I couldn't quite get them to grasp the elements of "poison" that slip in and out of sight among the shadows.
Read the full interview in our "Translations" section.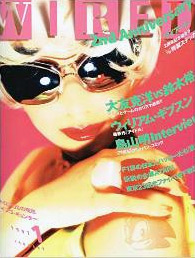 The second new interview translation we have added to the website is the "Akira Toriyama & Masako Nozawa Special Talk" which exclusively aired as a part of a special exhibit in Japan, "The World of Akira Toriyama". While the special talk was previewed on Mezamashi TV, the actual video footage in its entirety could only be seen at the exhibit itself. Friend of the site "Peking Duck" visited the exhibit in Nagoya and studiously transcribed the talk in its entirety; with his permission, we have translated said talk.
In the special talk, Masako Nozawa reveals how she was given the role of Gohan with no audition and no warning prior to coming in to record, while Toriyama reiterates his feelings on Goku's personality and motivations that he discussed in the WIRED interview so many years earlier.
At any rate, I wanted him to have the sense of being that rare guy who seeks only "to become stronger than before", so much so that it feels like "there's no one as pure as this person". And while he does end up saving everyone as a result of that, he himself at least has a very pure sincerity about "wanting to become stronger". What I wanted to depict the most was the sense that he might not be a good guy at all, although he does do good things as a result.
Read the full interview in our "Translations" section.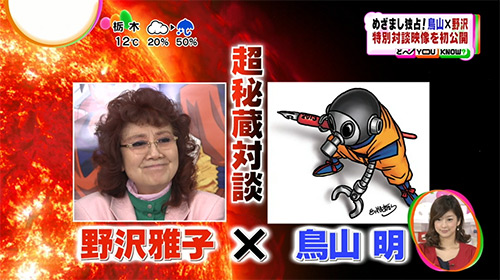 Please enjoy these new additions!