FUNimation has announced a slew of guests for a red carpet premiere of Resurrection 'F', the company's release of this year's new theatrical Dragon Ball Z film, Fukkatsu no "F" ("Revival of 'F'").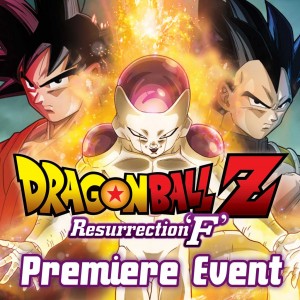 In addition to Christopher Sabat (voice director, Vegeta, Piccolo, etc.) and Sean Schemmel (Son Goku) from FUNimation's English production, film director Tadayoshi Yamamuro as well as legendary voice actress Masako Nozawa (Son Goku, et al.) will also be in attendance at the film's North American premiere in Los Angeles.
The premiere will take place 11 April 2015 at the Egyptian Theatre. Festivities begin at 10:00 a.m. with a "Fan Appreciation Event & Gathering" followed by the red carpet event at 11:00 a.m. The film's screening will be held at 12:00 noon for ticket holders. FUNimation will also give away the Japanese pre-release ticket items to the first 100 fans that show up in cosplay or with other merchandise: Goku and Freeza "Movie – Akira Toriyama Model Super Progression Straps" which have the characters' movie version inside their version from the manga. These fans will also be guaranteed a spot on the red carpet.
Join us on the red carpet to meet Dragon Ball Z: Resurrection 'F' cast and crew!

We're less than a week away from the World Premiere & Red Carpet Event for Dragon Ball Z: Resurrection 'F' on Saturday, April 11th at the Egyptian Theatre in Los Angeles! With appearances from the cast & crew, cosplay gatherings, and even a chance to have your questions answered by the creators!

Fans in the Los Angeles area, you won't want to miss this once-in-a lifetime event! Join us on the red carpet for a chance to meet the cast and crew, including:

Tadayoshi Yamamuro (Director of Dragon Ball Z: Resurrection 'F')
Masako Nozawa (Japanese voice actress ­for Goku)
Sean Schemmel (English voice actor for Goku)
Christopher R. Sabat (English voice actor for Vegeta)
and many more

We'll also be hosting a Fan Appreciation Event & Gathering prior to the red carpet. Show up in your best Dragon Ball Z cosplay or swag for an hour of contests, trivia, and story-telling hosted by Justin Rojas and Johnny Yong Bosch. We'll be giving away tons of prizes from our partners at Bandai Namco Games, Funko POP!, Bluefin Toys & Collectibles, and much more.

Bonus for you die-hard fans: The first 100 people who show up to the red carpet in Dragon Ball Z cosplay or merchandise will receive a pair of limited edition Goku & Frieza phone charms – only available in Japan! You'll also be guaranteed a spot along the red carpet!

Things kick off at 10 am, as follows:

10 am -­ 11 am: Fan Appreciation Event & Gathering
11 am ­- 12 pm: Red Carpet
12 pm ­- 2 pm: Screening of Dragon Ball Z: Resurrection 'F' (ticket holders: please be prepared to present your ticket)

Not in the Los Angeles area or can't make it to the event? We've got you covered! FUNimation's very own Justin Rojas will be roaming the red carpet and he wants to answer your questions! Do you have a question for the cast and creators of the film? Post it to Twitter or Facebook using the hashtag #DBZRedCarpet and it could be answered by Masako Nozawa, herself!

Be sure to stay tuned-in to the #DBZRedCarpet hashtag throughout the week for live coverage of the event.
The story for Revival of "F", opening nationwide in Japan 18 April 2015 in 2D and IMAX 3D, is being crafted by original manga author Akira Toriyama, who stated he is writing it, "…as though it were a continuation of the manga when it was in serialization," and that while it will, "…of course be a continuation of the previous Battle of Gods," he has also, "…deliberately increased the amount of action scenes by a good deal." Tadayoshi Yamamuro, who worked for many years as character designer and animation supervisor on the Dragon Ball franchise, will serve as the film's director and animation supervisor. Norihito Sumitomo will return from Battle of Gods and the Majin Boo arc of Dragon Ball Kai for musical composition duties. Momoiro Clover Z will contribute a song alongside Maximum the Hormone, whose "F" will be used as a "battle song" during the film. Revival of "F" is set to bring back Freeza and will also include two new characters (Sorbet and Tagoma), feature Beerus and Whis again from Battle of Gods, and much more.
As with the North American Battle of Gods debut, Kanzenshuu will once again have colleagues on-hand for coverage of the red carpet premiere, so stay tuned for similar video/photo/podcast content next week!
In the meantime, those looking for a spoilerific review can tune in to this week's podcast episode which contains our take on the film from its first preview screening in Japan. Be sure to also check out the entry for Tadayoshi Yamamuro in our "Animation Styles Guide" along with Episode #0305 of our podcast with details and commentary on his work over the decades; you can jump straight to the topic-portion of the episode on our YouTube version!