Long-time readers of the site may remember the official blog to promote Dragon Ball Z: Revival of "F".  Back on March 25th, it updated with a plug for the latest movie trailer, and an overview of a karaoke tie-in:
こんにちは。スタッフです。
映画の公開まであと24日!

みなさま本日解禁となりました、Z戦士編の映像はご覧になりましたでしょうか?
きっとワクワクすること間違い無しの必殺技満載の映像ですので、
是非ご覧ください!

また、同じく本日発表となりました、カラオケ店「JOYSOUND」さんとのコラボキャンペーン!
超プレミアグッズなども当たるキャンペーンですので、
是非、期間中にドラゴンボール関連楽曲を歌ってプレゼントをゲットしちゃいましょう!!

課題曲などの一覧や、キャンペーンの詳細は
JOYSOUNDさんのキャンペーンページ をチェックしてみてくださいね。

映画の公開まで、あと24日歌いまくって一緒にカウントダウン!

---

Hey, it's the staff.
Just 24 days to go until the movie premieres!

Did you all watch the Z-Warriors version trailer that got released today? It's chock full of thrilling special attacks, so be sure to check it out!

⇒Official movie site
Plus, a promotional campaign with the karaoke bar "Joysound" also starts up today! While the campaign lasts, definitely go sing Dragon Ball-related music to win some ultra-premium goods!!

Check out the Joysound campaign site for a list of songs and other details.

Let's sing our hearts out to count down the 24 days remaining until the debut!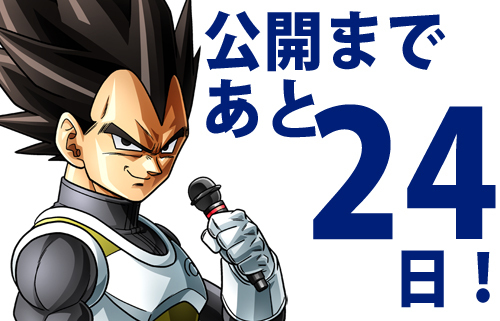 And on March 26th, they featured the following words from Yūko Minaguchi, the voice actress for Videl:
こんにちは!ブルマよ。
映画公開まであと23日!
今日はビーデル役の皆口裕子さんからコメントをもらったわよ!

前回の映画『ドラゴンボールZ 神と神』も出させていただいたのですが、今回の映画ではビーデルとパンの出番がどうなるかな?と思ってました。
ですが、今回も出させていただいて嬉しかったです。

前回も鳥山先生はストーリーに携わられたと聞いていたので、今回は先生ご自身が脚本を書いたと聞いた時、前回からの続きになるのか、どこの時代の話になるのか楽しみにしていました。
脚本を読んだら、『神と神』の続きだったので、先生の中で世界観がずっと続いているんだなーと思いました。
前作ではパンちゃんがお腹の中にいたんですが、今回は生まれてまして…それがまたぶちゃいくで、このあとあの子があのパンちゃんになるのか?!と不安になりましたが、とにかく無事にうまれててよかったです。

今回の映画では、フリーザが復活して強くなって、悟空とベジータも修行していて、戦っているシーンがすごいことになるんだろうなと楽しみにしてます。
前回見ていただいているとより楽しめる内容になっているので、もう一度『ドラゴンボールZ 神と神』のDVDなどをみて、『ドラゴンボールZ 復活の「F」』を観てもらえるとつながりがより楽しめるかと思いますので、それを観て楽しみに待っていてください。

それから、今回の映画での悟飯君のジャージ姿は、真面目で飾り気がないという部分で悟飯のキャラクターとして非常に"らしいなー"と思いました(笑)

---

Hey, Bulma here!
Just 23 days left until the movie premieres!
Today we've got a comment from the voice of Videl, Yūko Minaguchi!

Since I had got the chance to be in the last film, Dragon Ball Z: Battle of Gods, I was wondering whether Videl and Pan would feature in this next film. So I was happy to get to take part in this one too.

I had heard how Toriyama-sensei was involved with the story for the last movie, so when I found out that he was writing the script himself this time, I was curious if it would be a continuation of the last film, and looked forward to seeing just when it would be set. After reading the script and finding it was a sequel to Battle of Gods, I thought how sensei's word view just keeps going on and on.

In the last film Pan was still in the womb, while in this film she's been born…she's still a bit flat-faced, so I was worried if she'll really grow up into the Pan I know and love, but at any rate I'm glad she was born without any complications.

In this film, Freeza comes back to life and gets even stronger, plus Goku and Vegeta are training too, so I'm looking forward to seeing how the fighting scenes turn out. I think this movie will be more fun if you've seen the last one, so go re-watch Dragon Ball Z: Battle of Gods on DVD or something, so that you can appreciate the connections between the two.

One more thing: I think Gohan wearing a tracksuit in the movie sums him up perfectly: so earnest, yet unpretentious (laughs).
Finally, on March 27th they updated with another overview of various (Japan-only) promotional tie-ins for the film:
こんにちはスタッフです。
公開まであと22日となりました!

皆さま最近は映画館へは足を運んだりしていますでしょうか?

なんと!『ドラゴンボールZ 復活の「F」』では映画の公開を記念して、全国の様々な劇場で装飾を実施中!

柱や壁面、エレベーターなどが『ドラゴンボールZ 復活の「F」』仕様になっていたり、フリーザ様のお声が聞こえるスタンディなども登場中!
※掲出のない劇場もございますので、ご了承ください。

更に、MOVIX系列の劇場ではフリーザ様のお声での館内放送がかかっております。

そして、T・ジョイ系列で使えるオンラインチケット予約システム"KINEZO"もフリーザがジャック中!
詳細はこちらでチェック !
さらにさらに、オリジナルポップコーンBOXも発売中!
詳細はこちらでチェック!

イオン系列の劇場では、なんとタンブラーも4/4からの販売が決定しております!

それ以外にもまだまだ劇場でのお楽しみがたくさんありますので、
あと22日後の公開日には映画と一緒に映画館でもお楽しみください!

---

Hello, it's the staff.
Just 22 days until the premiere!

So, have you all been to the movie theater lately?

Well, it turns out that theaters across the country are all decorating to celebrate the upcoming premiere of Dragon Ball Z: Revival of "F"!

Pillars, walls, elevators, and more are all tailored to Dragon Ball Z: Revive of "F", and there are even movie displays where you can hear Freeza's voice!
※Please note that these are not present at all theaters.

Also, inside MoviX-affilated theaters, they're even broadcasting Freeza's voice.

Plus, Freeza is jacked into Kinezo online movie ticket reservation machines that you can use at T-Joy affiliates!
Check here for details!

And that's not all! There's even an original popcorn box on sale!
Check here for details!

And at Aeon-affiliated theaters, they're selling tumblrs starting April 4th!

The theaters have lots of other fun stuff besides these, so let's all enjoy the remaining 22 days left at the theaters!
The story for Revival of "F", opening nationwide in Japan 18 April 2015 in 2D and IMAX 3D, is being crafted by original manga author Akira Toriyama, who stated he is writing it, "…as though it were a continuation of the manga when it was in serialization," and that while it will, "…of course be a continuation of the previous Battle of Gods," he has also, "…deliberately increased the amount of action scenes by a good deal." Tadayoshi Yamamuro, who worked for many years as character designer and animation supervisor on the Dragon Ball franchise, will serve as the film's director and animation supervisor. Norihito Sumitomo will return from Battle of Gods and the Majin Boo arc of Dragon Ball Kai for musical composition duties. Momoiro Clover Z will contribute a song alongside Maximum the Hormone, whose "F" will be used as a "battle song" during the film. Revival of "F" is set to bring back Freeza and will also include two new characters (Sorbet and Tagoma), feature Beerus and Whis again from Battle of Gods, and much more.
We will continue to catch up with our translations for this blog over the next few days, so stay tuned…!