In conjunction with the unveiling of the cover artwork for both versions of Momoiro Clover Z's "Vow of 'Z'" CD single, the cover art for the "Dragon Ball Z: Revival of 'F' Original Soundtrack" has also been revealed.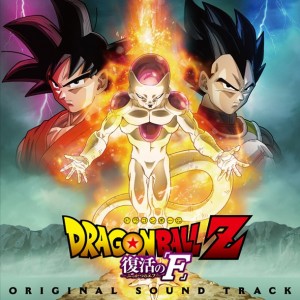 In addition to unveiling the soundtrack's cover, King Records has also released its full track listing:
March of the Stuffed Toys (Prologue)
The Pilaf Gang
Shenlong Comes Out
CHA-LA HEAD-CHA-LA (Main Theme)
One Million Zenny Get!
Freeza's Potential
A Peaceful Moment
Kuririn's Theme
Kuririn Freaks Out
Training With Whis
The Teachings of Whis
A Mysterious Pair
Freeza's Army Invades
Imminent Fear
Team Dragon's Battle
Completely Outnumbered
Piccolo Struggles
Freeza's Horrific Power
Goku's Teleportation
The Ruthless Freeza
Golden Freeza Takes the Stage
A Death Match With Golden Freeza
Goku's Counterattack
Goku's Anger
The Sneaky Freeza
Freeza's Madness
Vegeta's Conflict
The Earth's Last Moments
Our Hero, Son Goku
Vow of "Z" (After the Battle)
March of the Stuffed Toys (Epilogue)
Vow of "Z" —Movie ver.—
The movie's original soundtrack (KICA-3241; ¥2667 + tax; ¥2880 total) will be released 08 May 2015 in Japan and will contain 31 background musical tracks composed by Norihito Sumitomo, along with a "movie-size" version of the theme song by Momoiro Clover Z. The soundtrack was originally listed with a tentative 40 background musical tracks, but that appears to have been whittled down during the movie's production. In contrast, the original soundtrack for Battle of Gods contained 41 background musical tracks and two songs performed by FLOW. It should also be noted that some of the earlier tracks — specifically "The Pilaf Gang", "Shenlong Comes Out", and the main opening theme "CHA-LA HEAD-CHA-LA" — have been recycled from the Battle of Gods soundtrack.
The full track listing for the soundtrack, including the original Japanese text and romanizations, can be found on the "Movie Soundtracks" page of our "Music Database".
The soundtrack is currently available for pre-order from CDJapan.