As we continue to play catch-up with the official blog to promote Dragon Ball Z: Revival of "F", back on March 28th it updated with a comment from Shōko Nakagawa, known worldwide as the voice of the Oracle Fish (and probably some other stuff):
公開まであと21日!
今日は「予言魚」役の中川翔子さんからコメントをいただいたわよ!

前作に続き、ドラゴンボールのキャラクターに命を吹き込ませて頂けた事、同じ世界に生きる事ができたという事、アフレコ直後はとても信じられず夢見心地で したが、時間が経つにつれて予言魚というキャラクターが、この宇宙に確かに生きてるという実感、自分もこの歴史的映画に参加できたという実感が湧き、とて も嬉しかったです。
前作では叶わなかった、悟空とベジータ様と同じシーンに登場できたという実感が味わえて、ベジータ様が吐いた二酸化炭素を吸っていると思うとテンションが上がってしまい、マイペースな予言魚に、自分の高まるテンションを合わせていくのが大変でした。

さらに、みんなが大好きなフリーザ様が復活してくれるというのは、敵なのにみんなに愛されてるフリーザ様だからこそで、本当に嬉しい展開です。
今まで人類が生み出してくれた漫画作品、アニメ作品、感動バトルはいっぱいあったけど、人生の中で一番絶望感を感じた場面が、フリーザ様の「私の戦闘力は53万です」と「変身をあと2回も残しているのです」というセリフでした。
最初は怖かったけど、どこか憎めないキャラクターなんですよね。
フリーザ編の話をしている男子達のキラキラ感を見ると、人ってこんなにもワクワクできるんだ、こんなに興奮するって楽しいことなんだって感じました。

前作でもそうでしたが、ベジータ様の性格がどんどん丸くなって明るい人になっている気がして、今回はどんなキャラになっているのか楽しみです(笑)
今回は鳥山先生自らが脚本をお書きになったという事で、キャラクター達の言葉回しとか、「これこそが!」と思える物がいっぱい見られると思います。、
前作同様に懐かしいキャラクター・意外なキャラクターなどの活躍も楽しみですし、一言ずつが宇宙の歴史に残るだろうこの作品、全てに注目して欲しいです。

---

Just 21 days until the premiere!
Today we've got a comment from Shōko Nakagawa, voice of the Oracle Fish!

Getting to breathe life into a Dragon Ball character again after the last film, and being able to inhabit the same world as them, was totally unbelievable. Right after recording wrapped up, it was like I was walking in a dream. But as more time passes, it all starts to feel real: I'm thrilled that this "Oracle Fish" character really does inhabit this universe, and I really did get to take part in this historic movie. I got to experience being in the same scene as Goku and Vegeta, which I missed out on last film. I got hyped up just at the thought of breathing in the same carbon dioxide Vegeta exhaled, so it was really tough synching myself up with someone as laid back as the Oracle Fish.

Plus, the fact that Freeza's coming back to life is definitely good news; he may be a bad guy, but everyone adores him. There have been loads of exciting battles throughout all the manga and anime mankind has produced throughout history, but in my life the two lines which filled me with the most despair were Freeza's "My battle power is 530,000" and "I still have two more transformations left". At first I was terrified of him, yet somehow he's a character you just can't quite hate. When I see the sparkle in boys' eyes as they talk about the Freeza story arc, I'm amazed that something could make them so happy and excited.

Like in the last film, I get the feeling that Vegeta's becoming more laid-back and cheerful, so it'll be fun to see what he's like this time around (laughs). Since Toriyama-sensei wrote the script himself this time, I think it's packed with character dialogue and other stuff that make you go "Yes! These are the characters!" Just like the last film, this one's got both familiar faces and unexpected ones; each and every line might go down in universal history, so you'd better pay attention to them all.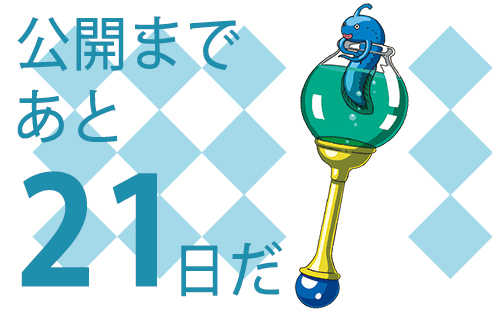 On March 29th, they had an inspiring visit from a certain member of the galactic patrol:
こんにちは!ブルマよ!
公開まであと20日!
今日は…あら、ジャコ、あんたも来たのね。

あんたとはなんだ!
わたしは超エリートの銀河パトロール隊員だぞ!
地球の危機をを知らせに来た私に向かってなんて口をきくんだ!

フリーザの復活はわかったから、そんなのあんたが追い払うことはできないわけ?

わたしはそういうことには関与しないことになっているのだ。
では、わたしは逃げるぞ。

ちょ、ちょっと!何言ってるのよ!
あんた誇り高いスーパーエリートの銀河パトロール隊員なんでしょ?!

そうだ。
誇り高い超エリートだ。

だったらちょっとは手伝ったりしたらどうなのよ。

……銀河の平和を守るのが使命であり、フリーザは見て見ぬふりをするしかないのだ。
あきらめろ。

諦められるわけないでしょ!
あ、ちょっとどこに行くのよ!

さらばだ!
キラーン☆

---

Bulma: Hey, Bulma here!
Just 20 days until the premiere!
Today…Oh hey, Jaco. So, you've come too?

Jaco: What do you mean, "you"?! I'm a super elite galactic patrolman! Is that any way to talk to me?! I came to tell you that the Earth's in peril!

Bulma: Well, since you know Freeza's back, can't you get rid of him?

Jaco: I cannot get involved in such affairs.  Right then, I'm outta here.

Bulma: H-Hang on a minute! I thought you said you were a super-elite galactic patrolman! Where's your pride?!

Jaco: It's true. I am a proud super-elite.

Bulma: Then how about you lend us a hand?

Jaco: ……My mission is to protect the peace of the galaxy, so I've got no choice but to turn a blind eye to Freeza. Forget it.

Bulma: How can I?! Hey, where are you going?!

Jaco: Farewell!
Shi—ine☆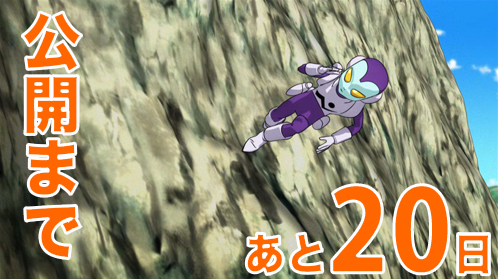 Then on March 30th, they updated with a plug for the (then-upcoming) preview screening in Shinjuku:
こんばんは。スタッフです。
映画の公開まであと19日!

本日は集英社さんの連合試写会が行われ、初めて映画『ドラゴンボールZ 復活の「F」』がお客様にお披露目となりました。

新宿バルト9では、上映に先駆けて孫悟空と孫悟飯役の野沢雅子さん、フリーザ役の中尾隆聖さん、そして予言魚役の中川翔子さんが登壇しての舞台挨拶が行われました。

悟空とフリーザが火花をバチバチと散らせながら登場し、野沢さんと中尾さんがアテレコで声を発すると、客席からは歓声があがりました。
映画の見どころや、脚本についてなどが語られる中、本作でのワールドプレミアinハリウッド が開催されることが発表!
全世界が待望する中でのビッグニュースに会場は拍手と喜びの声に包まれました。

みなさま全員のお目にかかれる日まであと19日!もう少々お待ちください!

---

Good evening, it's the staff.
Just 19 days to go until the premiere!

The film Dragon Ball Z: Revival of "F" was shown to audiences for the first time today at Shueisha's joint preview.

At Shinjuku Wald 9, Masako Nozawa (voice of Son Goku and Gohan), Ryūsei Nakao (voice of Freeza), and Shōko Nakagawa (voice of the Oracle Fish) came to the screening for an onstage meet-and-greet.

Sparks flew as Goku and Freeza took the stage, and a cheer rose up from the audience when Nozawa and Nakao did voice-overs.

Amidst discussion on topics such as the script and the film's highlights, it was announced that the film's world premiere will be held in Hollywood! The entire hall was enveloped in cheering and applause at this globally-anticipated news.

All you fine folks will get to see it too in another 19 days! Hold on just a little longer!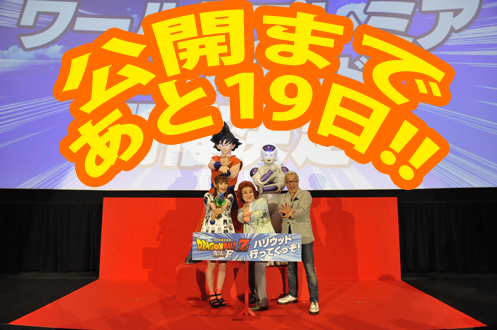 The story for Revival of "F", opening nationwide in Japan 18 April 2015 in 2D and IMAX 3D, is being crafted by original manga author Akira Toriyama, who stated he is writing it, "…as though it were a continuation of the manga when it was in serialization," and that while it will, "…of course be a continuation of the previous Battle of Gods," he has also, "…deliberately increased the amount of action scenes by a good deal." Tadayoshi Yamamuro, who worked for many years as character designer and animation supervisor on the Dragon Ball franchise, will serve as the film's director and animation supervisor. Norihito Sumitomo will return from Battle of Gods and the Majin Boo arc of Dragon Ball Kai for musical composition duties. Momoiro Clover Z will contribute a song alongside Maximum the Hormone, whose "F" will be used as a "battle song" during the film. Revival of "F" is set to bring back Freeza and will also include two new characters (Sorbet and Tagoma), feature Beerus and Whis again from Battle of Gods, and much more.
We will continue to catch up with our translations for this blog over the next few days, so stay tuned…!