As we enter the final stretch for the official blog to promote Dragon Ball Z: Revival of "F", back on March 31st it updated with a few words from the voice of Jaco, Hanae Natsuki.  Bulma's so excited, she apparently forgets how many days are left until the movie, saying 10 instead of 18:
こんにちは!ブルマよ。
映画公開まであと10日!
今日はなんと、今回の映画でドラゴンボール初登場になるジャコ役の花江夏樹さんからのコメントを頂戴したわ!


ドラゴンボールは僕が小さい頃からやっていて、視聴者としてずっと見たり読んでだりしていたものだったので、鳥山先生の最新作の主人公のジャコとして、まさかドラゴンボールに関わることができるとは思いませんでした。
フリーザはドラゴンボールのなかで魅力的なキャラクターで、敵なんですがとても大好きです。
フリーザがどういう風に悟空たちと戦うかとか、悟空、ベジータ含め、味方とされるキャラクターたちもどういう風に戦っていくかも見どころだと思います。

ジャコって画だけ見るとどういう声でしゃべるか分からず、お面みたいな顔をしていますが、可愛いところもあったり生意気なところもあったりと、様々な一面があるキャラクターなので、そこはうまく伝えられるように頑張りました。
結構シリアスなシーンでもその場にジャコがチラっといるとギャグみたいに見えたりするので、そこでクスっと笑って頂けたらと思います。
僕が思ってる以上にすごいクオリティで劇場版として観て頂けると思います!
ジャコというキャラクターに恥じないよう色々と向き合って演じたので、そこが伝わればなと思います。
ぜひ最後まで楽しんでいただければ嬉しいです。

---

Hey, Bulma here!
Just 10 [sic] days left until the premiere!
Today we've got a comment from Hanae Natsuki! He's voicing Jaco, a character who's making his Dragon Ball debut in this film!

I've been watching and reading Dragon Ball since I was little, so I never imagined I'd get to be involved with it by voicing Jaco, the main character of Toriyama-sensei's latest manga. Freeza's one of the most charming characters in Dragon Ball, so even though he's a bad guy I really love him. I think one thing to watch out for in the film is the way in which Freeza battles Goku and co., plus the fighting styles that Goku, Vegeta, and the rest of the good guys use.

With Jaco, he's got that mask-like face, so you can't really tell what kind of voice he'd have just from the pictures. But he's still a multifaceted character: cute in some ways, and in other ways kind of a jerk. I worked hard to try and convey all that properly.

Even in the more serious scenes, if you peek over at Jaco it might make you chuckle. The movie's higher quality than I thought. I tried to do Jaco justice with my performance, so hopefully that comes across. I hope you all enjoy the film right to the end.
A brief update on April 1st featured a plug for the latest limited-edition voice message from Freeza over on the film's main site and other such promos, before Bulma shockingly reveals that Trunks actually isn't Vegeta's child!  Can this possibly be true?! (hint: check the date)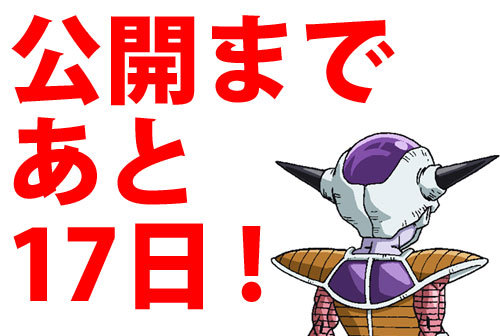 Then on April 2nd, the blog updated with a long-awaited message from the prince of the Saiyans, Ryō Horikawa:
こんにちは!ブルマよ。
映画公開まであと16日!
今日はベジータを演じている堀川りょうさんからのコメントを頂戴したわよ!

テレビのOAが終わって「俺は二度と戦わん!」みたいなことを言ったと思うんです。
けど、前作の劇場版で、新たな冒険への序章があって、ワクワクドキドキしてましたけど、今回の劇場版では、さらに戦いの渦中に身を置いている。
「全然戦ってるじゃん、おれ!」って(笑)。
楽しくやらせていただきました。感無量ですよ。

今回の脚本が鳥山先生のオリジナルと知った時は、それだけ愛して描いてくださっているというのは本当にありがたいことですし、役者冥利に尽きるというか、温かく観て下さってるんだなとすごく嬉しいです。
「あ、フリーザが蘇るんだ」っていうのが僕が一番最初にインパクトを受けたところで印象に残りましたね。
当時は頭が上がらなかった、結局勝てなかった相手という、苦渋の涙がとても印象的で、プライドの高いあの人が「カカロット、頼む、お前がフリーザを倒してくれ」って涙ながらに訴えるシーンがあったと思うんですけど、本当に悔しかったんだろうなって。
そういう意味ではベジータにとってフリーザは思い入れというか、すごく大きな存在だと思いますね。
ベジータ的にはリベンジするチャンスができたっていうことなのかなって気はするんですけど、今回は鳥山先生にかっこいいシーンをいただきました(笑)。
格闘シーンはもちろんですが、随所に楽しいところ満載なので、皆さんの期待を裏切りませんし、とてもかっこいいファンタジックな作品になっていると感じましたので、ぜひぜひ劇場に足を運んで観ていたきたいです。

---

Hey, Bulma here!
Just 16 days until the movie's premiere!
Today we've got a comment from Ryō Horikawa, voice of Vegeta!

When the TV series wrapped up, I think I said something like "I'll never fight again!" But then in the last film we had a prelude to a new adventure, so with this current film I've thrown myself into the maelstrom of battle once more. "Hey, I'm totally fighting!" (laughs) I'm really enjoying myself. I can't begin to describe how it feels.

When I learned that the script this time was an original from Toriyama-sensei, I was grateful that he'd be kind enough to write it for us; it makes me feel blessed to be an actor.

The first thing to strike me was that Freeza was returning to life. Back then he was an opponent Vegeta never gained the upper hand on, one he ultimately couldn't beat. His bitter tears really left an impression, and I think that the scene where despite his pride he begs "Kakarot, please, defeat Freeza" was tragic. In that sense then, you could say that Freeza looms large in Vegeta's mind; he has a lot of emotional meaning for Vegeta.

Toriyama-sensei's given Vegeta a cool scene this time around; it almost feels like a chance for him to get his revenge (laughs).

Of course the fight scenes are filled with fun at every turn. I feel that this turned out to be a fantastic movie that won't disappoint, so definitely get yourself to the theater.
Finally, on April 3rd they updated with a visit from Whis:
こんにちは!ブルマよ!
公開まであと15日!
今日はウイスさんが来ています!
ウイスさーん!今日のごちそうはババロアよー!!

こんにちはブルマさん。
そして地球の皆さん。私はウイスと言います。
今日はババロアですか?
どれどれ・・・んーこれまた美味ですねー

私が用意したんだから当たり前でしょ!
食べたんだから映画のこと話しなさいよね!

そうでした、えーあのフリーザが復活したようですね。
そもそもビルス様と魔人ブウ以外にフリーザに勝てる人なんていないと思っていましたから、倒された時はびっくりしましたよ。
倒したのが孫悟空さんたちなんですから、その復讐に燃えているんでしょうね。
だからどれだけ強くなったのか楽しみですよ。
悟空さんとベジータさんは今私のもとで修業をしておりますが、どうも二人とも弱点がありますからねぇ。

なによ弱点って!

それは言えません。
さて、そろそろビルス様のもとに戻りますね。
また寝言で星を破壊してしまったようですから。
15日後、楽しみにしてます。それではごきげんよう。

---

Bulma: Hey, Bulma here!
Just 15 days until the premiere!
Today Whis has stopped by!
Whis, your treat for the day is Bavarian cream!

Whis: Greetings Bulma, and greetings to all the people of Earth. My name is Whis.
So today you've got…"Bavarian cream", was it? Let's see here….Hmmm, this tastes exquisite!

Bulma: Naturally! I made it myself! Well, now that you've eaten, tell us a little about the film!

Whis: Oh, it looks as if that Freeza fellow has come back to life. You know, I never imagined anyone besides Lord Beerus or Majin Boo was capable of defeating Freeza, so when he lost to Son Goku it was quite a shock. Now he probably yearns for revenge on Son Goku and the others. I'm looking forward to seeing how much stronger he can become. Goku and Vegeta are currently training under my tutelage, but both of them have their weaknesses.

Bulma: What do you mean, "weaknesses"?!

Whis: I cannot say. Well then, I should probably be returning to Lord Beerus. You never know when he might roll over in his sleep and destroy another planet. I'm looking forward to 15 days from now. Good day to you all.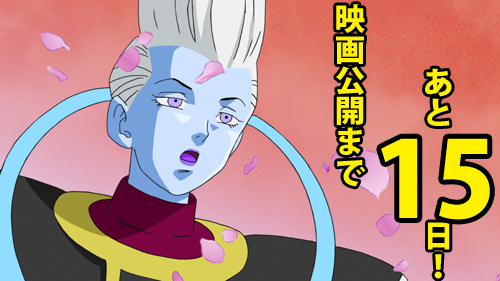 The story for Revival of "F", opening nationwide in Japan 18 April 2015 in 2D and IMAX 3D, is being crafted by original manga author Akira Toriyama, who stated he is writing it, "…as though it were a continuation of the manga when it was in serialization," and that while it will, "…of course be a continuation of the previous Battle of Gods," he has also, "…deliberately increased the amount of action scenes by a good deal." Tadayoshi Yamamuro, who worked for many years as character designer and animation supervisor on the Dragon Ball franchise, will serve as the film's director and animation supervisor. Norihito Sumitomo will return from Battle of Gods and the Majin Boo arc of Dragon Ball Kai for musical composition duties. Momoiro Clover Z will contribute a song alongside Maximum the Hormone, whose "F" will be used as a "battle song" during the film. Revival of "F" is set to bring back Freeza and will also include two new characters (Sorbet and Tagoma), feature Beerus and Whis again from Battle of Gods, and much more.
We will continue to catch up with our translations for this blog over the next few days, so stay tuned…!