With releases of the first two packs under their belt, the international branches of Bandai Namco have turned their attention to the third upcoming pack of downloadable content for Dragon Ball XENOVERSE.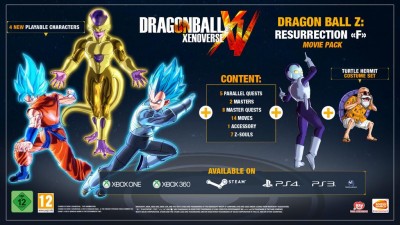 The "Resurrection 'F' Movie Pack" will come with four new playable characters, all making their animated debut in the new film: Super Saiyan God Super Saiyan Son Goku, Super Saiyan God Super Saiyan Vegeta, Golden Freeza, and Jaco the Galactic Patrolman. Additionally, the pack with include five parallel quests, two masters to train under, eight new master quests, fourteen new special moves, one new accessory, and seven new "Z-Soul" items to equip.
It is not clear if the "Turtle Hermit Costume Set" is contained within those numbers, but said clothing items will also be included. To wit, the overall numbering of items is slightly different between the Japanese announcement and the international details; international downloads may also include theatrical bonus items film attendees in Japan have received.
While no date is formally set for the pack's release, it is presumed for an April release. A recent patch for the game provided the data for some of the upcoming downloadable content pack customization pieces.
The Kame-Sen'nin outfit set and Jaco were made available in Japan for pre-order/first-pressing copies of the game, but until now had not yet been made available outside of that limited release.
Downloadable content packs are available at a base price of $9.99/¥950 per pack, with a season pass available netting players interested in acquiring all three packs a $5 savings at $24.99.
Dragon Ball XENOVERSE — developed by Dimps for Bandai Namco — is the latest video game for the franchise on the PlayStation 4, Xbox One, PlayStation 3, Xbox 360 and PC.