Bandai Namco has announced international distribution of a "Movie Costumes Pack" for Dragon Ball XENOVERSE, a batch of downloadable content originally made available to Dragon Ball Z: Revival of "F" theatrical attendees in Japan.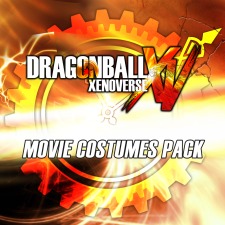 Included are costume items from the respective film:
Exclusive FREE content coming from the new Dragon Ball Z movie Dragon Ball Z Resurrection 'F':
Super Saiyan God Super Saiyan Goku's costume
Super Saiyan God Super Saiyan Vegeta's costume
Super Saiyan God Super Saiyan Goku's wig
The pack has gone live on European services and will presumably make its way to American services later today — stay tuned for additional information on that front.
For its European fans, Bandai Namco is distributing the pack for free via the "VIP Corner" on its own website. Players must subscribe to the company's service in order to receive the appropriate code.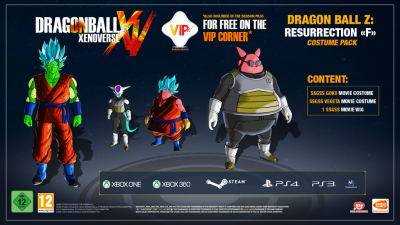 Bandai Namco's page does note that season pass owners will receive this content automatically. The pack is available on all platforms, with the PlayStation 3 and PlayStation 4 pack being cross-buy across the two consoles.
UPDATE: Bandai Namco's American branch has updated with links making the costume pack freely available to all platform owners. PC players will still need to grab a code through the company's VIP Center, however.
Downloadable content packs are available at a base price of $9.99/¥950 per pack, with a season pass available netting players interested in acquiring all three packs a $5 savings at $24.99. The third pack, which contains playable characters from Revival of "F", is also due out soon.
Dragon Ball XENOVERSE — developed by Dimps for Bandai Namco — is the latest video game for the franchise on the PlayStation 4, Xbox One, PlayStation 3, Xbox 360 and PC.