A piece of promotional artwork resurfaced online yesterday tied in with excitement about the upcoming Dragon Ball Super TV series and, more specifically, its accompanying manga adaptation. Over the last day, several news outlets have incorrectly claimed this image is promotional artwork for the aforementioned manga adaptation.

The image — drawn by Toyotarō — dates back to February of this year, where it was used in the Shonen Jump+ digital bonus material from that month's (March 2015) issue of V-Jump. Alongside the image were sketches for the following month's second chapter of Toyotarō's Dragon Ball Z: Revival of "F" manga adaptation, which ran for three chapters in the April, May, and June issues of V-Jump this year.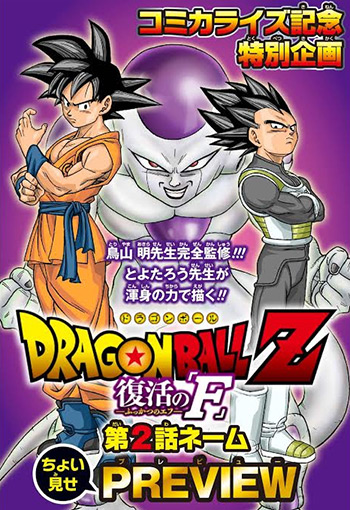 The image notes that the manga is "completely supervised by Akira Toriyama-sensei" and that "Toyotarō is drawing it with all his might!!!"
Japanese entertainment website Natalie ran a story announcing the forthcoming manga adaptation of Dragon Ball Super. The above image of Goku was used to accompany the story.
鳥山明ストーリー原案の「ドラゴンボール」新アニメ、Vジャンでコミカライズ

鳥山明原作のアニメ「ドラゴンボール」の新シリーズ「ドラゴンボール超(スーパー)」のコミカライズ連載が、6月20日発売のVジャンプ8月号(集英社)よりスタートする。執筆するのは、同誌にて映画「ドラゴンボールZ 復活の『F』」のコミカライズも手がけたとよたろう。

アニメ「ドラゴンボール超」は、悟空が魔人ブウとの壮絶な戦いを終え、平和を取り戻した地球を舞台とした「ドラゴンボール」シリーズ18年ぶりの新作。原案を鳥山が担当し、7月よりフジテレビほかにて日曜9時より放送される。

---

V-Jump Comicalizes the New "Dragon Ball" Anime From Akira Toriyama's Story Draft

The new "Dragon Ball" anime series, Dragon Ball Super, from original author Akira Toriyama is receiving a comicalized serialization, which is set to start in the August 2015 issue of V-Jump (Shueisha) on June 20th. It will be written by Toyotarō, who worked on the comicalization of the Dragon Ball Z: Revival of "F" movie in this magazine.

The stage for the Dragon Ball Super anime, the first new "Dragon Ball" series in 18 years, follows Goku's fierce battle with Majin Boo, where peace has once again fallen over the Earth. Based on a draft by Toriyama, the [new series] will be broadcast on Sundays at 9 a.m. on Fuji TV this July.
The image of Goku is simply captioned with "Goku Cut by Toyotarō" (とよたろうによる悟空のカット), noting the obvious fact that it is drawn by Toyotarō. With no promotional artwork — let alone a true logo — released yet for Dragon Ball Super, we can only assume Natalie simply grabbed whatever image they felt was most relevant, or was perhaps even provided to them by Shueisha; in this case, an image of the main character from the respective manga artist makes sense as a choice.
Following Natalie's story going online, many popular anime and comic websites ran with the story that the image was specifically from and for the forthcoming Dragon Ball Super adaptation.
As is probably apparent, this is not the case.
We do not yet have a perfectly-concrete, in-universe timeframe that the Dragon Ball Super story will take place (other than after the defeat of Majin Boo). We also do not know if Goku's design as shown above (which includes Whis' symbol on his dōgi) will be kept; it may be, or it may not be.
As of right now, all we know is that Toyotarō will be handling the manga adaptation in V-Jump. Nothing about its content, including character designs, has been revealed.