FUNimation has announced that the 2015 Dragon Ball Z film, Resurrection "F", will see a limited theatrical run from 04 August 2015 to 12 August 2015.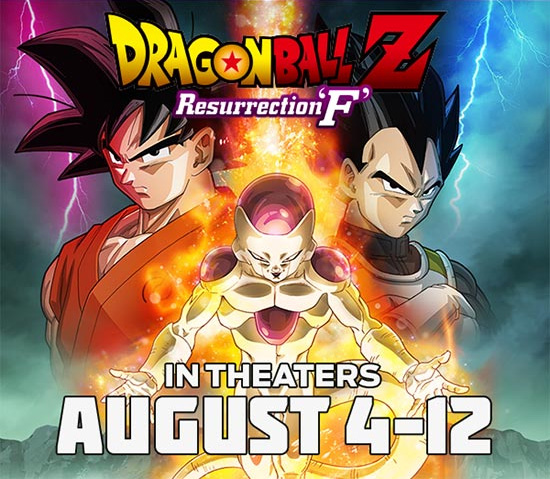 The film will feature the same English dub cast returning from Battle of Gods. Chris Ayres returns as Freeza from his Dragon Ball Z Kai role, while Todd Haberkorn joins the cast as Jaco.
The company's dragonballz.com website currently hosts a mailing list subscription form and a "teaser trailer" video:
The 2013 Dragon Ball Z film, Battle of Gods, also received a short theatrical run courtesy of FUNimation prior to its home video release just a couple months later.
The story for Revival of "F", which opened nationwide in Japan 18 April 2015 in 2D and IMAX 3D, was crafted by original manga author Akira Toriyama, who stated he wrote it, "…as though it were a continuation of the manga when it was in serialization," and that while it would, "…of course be a continuation of the previous Battle of Gods," he has also, "…deliberately increased the amount of action scenes by a good deal." Tadayoshi Yamamuro, who worked for many years as character designer and animation supervisor on the Dragon Ball franchise, served as the film's director and animation supervisor. Norihito Sumitomo has returned from Battle of Gods and the Majin Boo arc of Dragon Ball Kai for musical composition duties. Momoiro Clover Z contributed "Vow of 'Z'" as the film's main theme alongside Maximum the Hormone, whose "F" is used during the film. Revival of "F" brings back Freeza and includes two new characters (Sorbet and Tagoma), features Beerus and Whis again from Battle of Gods, and much more. The film has been announced for distribution in 74 countries.