A strategy guide book for the upcoming Nintendo 3DS game, Dragon Ball Z: Extreme Butōden, has been announced for release 11 June 2015, the same day as the game's release.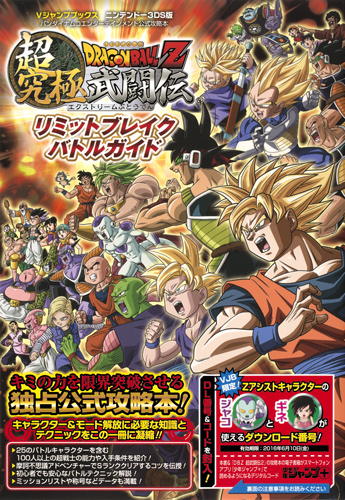 The 112-page "Limit Break Battle Guide" will cover the game's 100 characters (including playable and Z-Assist characters), detailing the conditions required to unlock each character and their various in-game abilities. It will also detail the necessary techniques, strategies, and information needed to complete the story mode and all eight areas encountered in the game's "Mysterious Adventure" mode.
The book will also come packed with special bonus material for players: Jaco and Gine (from Jaco the Galactic Patrolman) as Z-Assist characters, as well as a download code for a digital copy of the original strategy guide for the Super Famicom game Dragon Ball Z: Super Butōden 2. Various other Z-Assist characters are available as retailer-specific downloadable content via different Japanese stores.
The book will retail for ¥950 + tax and is available for pre-order via Amazon Japan.
Dragon Ball Z: Extreme Butōden will launch in Japan 11 June 2015. First-press copies of the game will come packed with bonus content, including a downloadable version of the Super Famicom game Dragon Ball Z: Super Butōden 2 (previously included as a part of the J-Legend Retsuden compilation game). Arc System Works will develop the game for Bandai Namco. The developer previously worked on the Bukū… / Supersonic Warriors games on the Nintendo GameBoy Advance and DS.
Dragon Ball Z: Extreme Butōden is currently available for pre-order from CDJapan. The Nintendo 3DS / New Nintendo 3DS are region-locked; a Japanese system is required for the game to play.