After teasing fans with a blank page a little over a week ago (yet still having surprises spoiled by our buddy kei17's detective work), the official Twitter account for Dragon Ball Super has previewed actual content of the storyboard for the ending theme.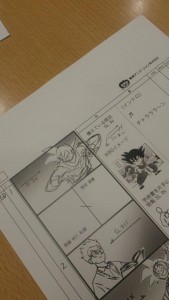 関係者の了解をもらったので、先日アップしたエンディングの絵コンテの中身をチラ見せ!(S)

---

After getting consent from those involved, here's a sneak peek at the content of the ending's storyboard that we uploaded the other day. (S)
The image shows the page underneath what was previewed last week, showing an image of adult Goku in a fighting pose sliding in from left over a background of his first appearance in the original manga. A further image shows what appears to be Gohan holding a book of some kind, sliding in from the opposite direction.
The new ending theme song itself, "Hello Hello Hello" (ハローハローハロー), will be performed by the band Good Morning America. The band previously contributed "Dear Zarathustra" to the Japanese broadcast of the Dragon Ball Kai Majin Boo arc.
Dragon Ball Super, which begins airing 05 July 2015 on Fuji TV, is the first all-new TV series for the franchise in 18 years. The story and characters will be developed by original manga author Akira Toriyama, will star veteran voice actress Masako Nozawa, and will be directed by Kimitoshi Chioka. The series will, "…follow the aftermath of Goku's fierce battle with Majin Boo, as he attempts to maintain earth's fragile peace." A manga adaptation from "Toyotarō" will run each month in V-Jump starting in June.