While we of course enjoy keeping up with the slew of material tossed our way courtesy of new movies and TV series, diving into the archives is always an absolute pleasure. We recently shared a 1996 Akira Toriyama interview from WIRED in Japan; our latest translation dips back even a little further than that.
This new addition to the site is from the 1995 #5 issue of Weekly Playboy in Japan, incidentally enough published by Shueisha; the company also used to publish a monthly equivalent of the American magazine, but it ceased publication in late 2008.
The issue includes a five-page article on Akira Toriyama, based on an interview with him, with quotes used throughout. The article describes itself as "Part 1" on the top of the first page, but investigating this further, it just means that it is the first in a series of articles on popular cartoonists, and not a multi-part interview with Toriyama specifically; the following issue's contribution is on Osamu Akimoto, author of Kochikame.
The date on the magazine's cover is 31 January 1995, but since Weekly Playboy pretty consistently post-dates its issues by exactly two weeks (three in the case of a double-issue), we can determine that the official release date was likely 17 January 1995. This would be just after the release of Chapter 502 in Weekly Shōnen Jump 1995 #07, which means Toriyama may have already been thinking about the end of the series. The article certainly gives one that sense, although he never comes out and says it; it's almost an entreaty to let him live an ordinary life now that he's winding down doing the thing that made him famous.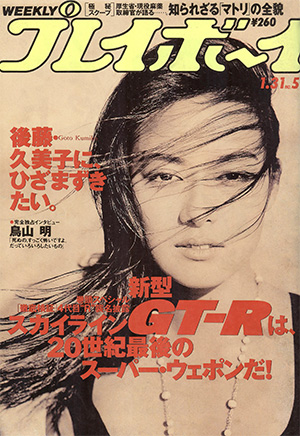 The article is a fascinating one, particularly due to the timeframe during which it was printed. Everything from Toriyama's early cash-grab initiatives to living with such huge popularity are touched upon. Flourishes and details fans may or may not notice are even given fantastic context:
"Then I got a call from my first editor T——, saying, why don't you shoot for serialization? 'Your story is still no good, but you have a novel way of drawing sound effects, like Kiii——n and Gacha, which has impact,' he said. I had just done the same thing I did on posters with stuff like 'Year-end bargains——!' or 'Super sale on now——', though. (laughs)
Read the full article in our "Translations" section.
Believe it or not, we actually have more material to cover from these older Weekly Playboy issues in Japan, so stay tuned!