Toei Animation's official Dragon Ball Super website has finally been revamped in preparation of the new series' debut in mere weeks on 05 July 2015. The update includes the first promotional artwork for the series, a few new sections with additional information, and the preview trailer that was broadcast yesterday following Dragon Ball Kai (which is currently not available).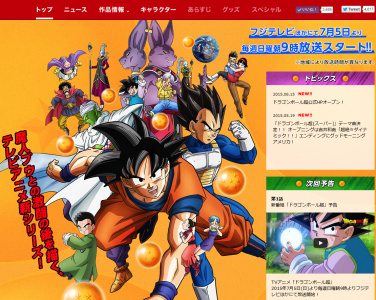 Along with a brief introduction, a "Staff & Cast" page has also been included amongst the new pages now available on the site, and it is no surprise that Tadayoshi Yamamuro, who worked for many years as character designer and animation supervisor on the Dragon Ball franchise, and more recently served as director and animation supervisor for Dragon Ball Z: Revival of "F", is returning as the series' sole character designer. No additional staff members have been officially announced as of yet, including a lead script writer, art director, or musical composer, although it was unofficially revealed that Norihito Sumitomo would be returning via his blog.
The majority of the main cast from Dragon Ball Kai and the recent films will be returning, including Yūko Minaguchi (Videl), Kōichi Yamadera (Beerus), Masakazu Morita (Whis), and Jōji Yanami as the series' narrator, who was recently absent from Revival of "F".
The new promotional splash artwork features the series' main characters, the majority of whom are shown in their attire from Dragon Ball Z: Battle of Gods. However, the most intriguing portion of the artwork is what appears to be a new God of Destruction-esque character, standing back-to-back with Beerus, and spinning the Earth on his finger. Next to him is another new character, presumably his attendant, who is very similar in appearance to Whis. Will we finally be exploring a few of the 12 universes mentioned by Beerus in Battle of Gods? Only time will tell!
Be sure to check back for more details and updates as things ramp up toward the debut of Dragon Ball Super, the franchise's first new TV series in 18 years, on 05 July 2015!
UPDATE: A comics page has been added to promote Toyotarō's upcoming manga adaptation of the series, which is set to premiere in less than a week in the August 2015 issue of V-Jump.