This week's issue of Weekly Shōnen Jump (2015 #31), released today in Japan, contains a small promotional section dedicated to the first episode of Dragon Ball Super, which is set to debut in mere days on 05 July 2015.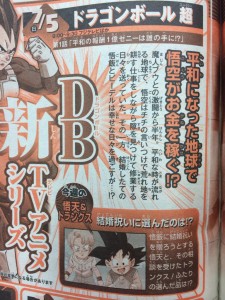 The page unveils the first episode's title, along with a brief synopsis, setting the time frame of the series as six months following the battle with Majin Boo (which would place it in November of Age 774 going with the timeline established up to this point):
第1話「平和の報酬1億ゼニーは誰の手に!?」

平和になった地球で悟空があ金を稼ぐ!?
魔人ブウとの激闘から半年。平和な時が流れる地球で、悟空はチチの言いつけで荒れ地を耕す仕事をしながら隙を見つけて修業する日々をおくっていた。その一方、結婚したての悟飯とビーデルは幸せな日々を過ごすが…!?

---

Episode #1, "Who Will the 100 Million Zenny Peace Reward Go To…?!"

With the Earth at peace, Goku earns money?!
Six months after the fierce battle with Majin Boo. While the days pass peacefully, Goku works tilling the soil like Chi-Chi had ordered him, while still finding time to train. Meanwhile, newly-weds Gohan and Videl are living happily, but…?!
This new synopsis notes that Gohan and Videl are newly weds, which contradicts the initial plot unveiled in the August 2015 issue of V-Jump, where Videl is referred to as Goten's "soon-to-be sister-in-law", implying the two were not yet married. This would seem to help confirm that Gohan and Videl were indeed married by the time Battle of Gods rolls around, as the film occurs four years (Age 778) after the battle with Majin Boo (Age 774).
The page also includes a small section covering what Goten and Trunks will be up to this week, lending to the intriguing possibility of the two having weekly side-adventures non-critical to the series' main overarching plot:
今週の悟天&トランクス — 結婚祝いに選んだのは!?
悟飯に結婚祝いを贈ろうとする悟天と、その相談を受けたトランクス!ふたりの選んだ品は!?

---

Goten & Trunks This Week: What do they pick for a wedding gift?!
Goten wants to give Gohan a wedding present, and Trunks offers his advice! What item do they end up picking?!
Dragon Ball Super, which begins airing 05 July 2015 on Fuji TV, is the first all-new TV series for the franchise in 18 years. The story and characters will be developed by original manga author Akira Toriyama, will star veteran voice actress Masako Nozawa, and will be directed by Kimitoshi Chioka. The series will, "…follow the aftermath of Goku's fierce battle with Majin Boo, as he attempts to maintain earth's fragile peace." A manga adaptation from "Toyotarō" will run each month in V-Jump starting with this month's August 2015 issue.