The official Twitter account for Dragon Ball Super has started a daily countdown leading up to the series' debut 05 July 2015. Today's entry, with six days to go until the premiere, teases a shot from the ending theme song:
「ドラゴンボール超」放送開始の7月5日まであと6日!今日はとっておきの1枚。エンディングのラストカット!!!「これ、出していいの?」と何回も確認しちゃいましたー。(S)

---

There are 6 days until the Dragon Ball Super broadcast begins on July 5th! Here's the picture we've been saving for today. The ending's last cut!!! We made sure [with the staff] a bunch of times: "Is it really OK to put this out there?" (S)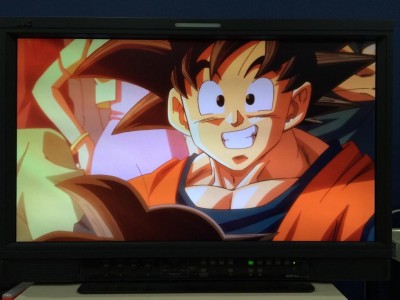 Good Morning America will provide the series' ending theme, "Hello Hello Hello" (ハローハローハロー), which will see a CD single release in Japan 12 August 2015. Good Morning America contributed the song "Dear Zarathustra" as the first closing theme to the Majin Boo arc of Dragon Ball Kai for its Japanese broadcast (and third closing theme overall).
Dragon Ball Super, which begins airing 05 July 2015 on Fuji TV, is the first all-new TV series for the franchise in 18 years. The story and characters will be developed by original manga author Akira Toriyama, will star veteran voice actress Masako Nozawa, and will be directed by Kimitoshi Chioka. The series will, "…follow the aftermath of Goku's fierce battle with Majin Boo, as he attempts to maintain earth's fragile peace." A manga adaptation from "Toyotarō" will run each month in V-Jump starting with this month's August 2015 issue.