The V-Jump Channel recently hosted a "Dragon Ball Super Completion Announcement Event" on 01 July 2015 at 1:00PM in Tokyo to promote the upcoming debut (and effective completion of the first episode) of the Dragon Ball Super TV series.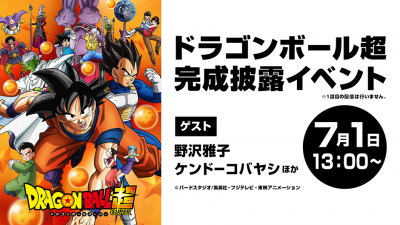 The event was streamed live on Yahoo's GYAO! website and featured guest appearances from Masako Nozawa (Son Goku), rock band Good Morning America, with the band's bass player Tanashin in complete Golden Freeza cosplay, and Mandō Kobayashi host Kendō Kobayashi dressed as Yajirobe. Kazuya Yoshii, who is providing the opening theme "Chōzetsu ☆ Dynamic!" for Dragon Ball Super, did make a brief appearance onscreen via a prerecorded message.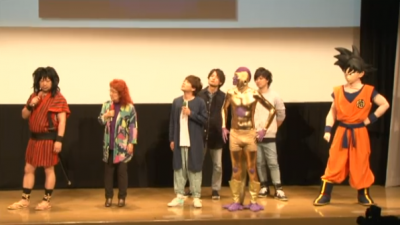 Following brief introductions from producer Atsushi Kido, a message from Akira Toriyama was displayed onscreen. The latter portion of his message has been previously published in V-Jump and was recently added to the series' official website. However, it is the former portion of his comments that are much more intriguing, as they reveal the series' overall plot! (Be warned, there are heavy spoilers beyond this point!)
---

"Dragon Ball Super" is a complete continuation of the Majin Boo story arc. It's got a bit of post-battle aftermath, continues with the "Battle of Gods" arc where the God of Destruction Beerus appears and the "Revival of 'F'" arc where Freeza comes back to life, and then, I've written a strange new story where they finally depart from this universe. They're fighting against their neighbors, Universe 6! They'll yell at me if I give away too many spoilers, so I'll keep the rest a secret, but they're chasing after giant Super Dragon Balls; I think things will unfold in a bright and simple way, that will be really fun and exciting!

Since it's another universe, loads of new characters will turn up. I'll do my best to draw the tons of character designs necessary, so I'm looking forward to this too.

You know, it suddenly occurs to me that somewhere along the line the Dragon Ball anime has become quite a huge story. Since I'm the guy who drew the thing, it's a bit weird for me to say this, but when I first started out I never dreamed it would have a universe as a setting (laughs). Don't worry though, it's still going to be the same sort of easy-to-understand content as always. Please be sure to watch Dragon Ball Super on TV!
It was recently reveled in this week's issue of Weekly Shōnen Jump that the series will begin six months after Majin Boo's defeat, placing it in November of Age 774 in the series' established timeline. From there the series is now set to catch up to the events of Battle of Gods and Revival of "F", with each being a "retelling" of their respective events, before going on to an all-new inter-universe storyline. This new storyline will feature a new set of "Super" Dragon Balls, feature all-new characters, and much more! It is not clear at the moment just how this new storyline will, if it does at all, tie-in with the events seen 10 years later at the end of the manga in chapters 517, 518, and 519, but it is certainly nice to now have a better idea of the series' general overall plot and how certain events will tie into the story.
Dragon Ball Super, which begins airing 05 July 2015 on Fuji TV, is the first all-new TV series for the franchise in 18 years. The story and characters will be developed by original manga author Akira Toriyama, will star veteran voice actress Masako Nozawa, and will be directed by Kimitoshi Chioka. The series will, "…follow the aftermath of Goku's fierce battle with Majin Boo, as he attempts to maintain earth's fragile peace." A manga adaptation from "Toyotarō" will run each month in V-Jump starting with this month's August 2015 issue.
UPDATE: Akira Toriyama's comment on the official Dragon Ball Super website has been updated.