The official Twitter account for Dragon Ball Super has started a daily countdown leading up to the series' debut 05 July 2015. Today's entry, with three days to go until the premiere, shares a sigh of relief over wrapping up yesterday's "Complete Showcase Event" while also apologizing to those that may be unable to catch the show right away:
「ドラゴンボール超」放送開始の7月5日まであと3日!昨日無事に完成披露試写会も終わり、着々と制作は進んでいます!放送開始日が異なる地域の皆さんには本当に申し訳ないのですが、楽しみに待っていてください!(S)

---

There are 3 days left until Dragon Ball Super starts its broadcast on July 5th! Yesterday, the preview event celebrating its completion ended without incident, and the production is moving right along! We're truly sorry to all of you in areas with a different broadcast date, but please hang on and look forward to it! (S)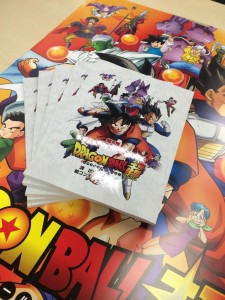 Dragon Ball Super, which begins airing 05 July 2015 on Fuji TV, is the first all-new TV series for the franchise in 18 years. The story and characters will be developed by original manga author Akira Toriyama, will star veteran voice actress Masako Nozawa, and will be directed by Kimitoshi Chioka. The series will, "…follow the aftermath of Goku's fierce battle with Majin Boo, as he attempts to maintain earth's fragile peace." A manga adaptation from "Toyotarō" will run each month in V-Jump starting with this month's August 2015 issue.