The official Dragon Ball Z video games Facebook page has revealed that Europe will receive a black New (non-XL) Nintendo 3DS package containing faceplates, Extreme Butōden pre-installed, as well as a digital copy of Super Butōden 2.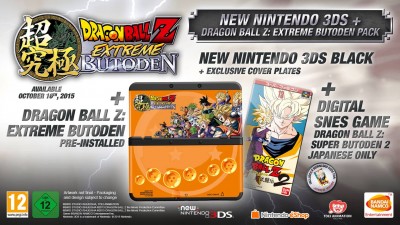 The package will be available 16 October 2015 (alongside the game's standard release).
Pre-ordering the game will also grant players "early access" to six Z-Assist characters: young Son Goku, Garlic Jr., Super Vegetto, Metal Coola, baby Son Goku, and young Son Gohan. Super Butōden 2 is also included in standard pre-orders and will be a download of the Japanese version; a release outside of Japan likely explains the game's new replacement music, originally composed by Kenji Yamamoto (under the moniker of "MONOLITH").
Super Butōden 2, originally released in Japan for the Super Famicom in 1993, did see a limited European localization in 1994.
Only standard-sized (non-XL) models of the New Nintendo 3DS accept custom faceplates. North America currently only has the XL version of the New Nintendo 3DS.
The company also released an English-language promotional video for the game leading up to Japan Expo taking place this weekend:
Dragon Ball Z: Extreme Butōden launched in Japan 11 June 2015. First-press copies of the game come packed with bonus content, including a downloadable version of the Super Famicom game Dragon Ball Z: Super Butōden 2 (previously included as a part of the J-Legend Retsuden compilation game; albeit now with replacement music). Arc System Works developed the game for Bandai Namco. The developer previously worked on the Bukū… / Supersonic Warriors games on the Nintendo GameBoy Advance and DS.
The game will be available in Europe 16 October 2015, in North and Latin America 20 October 2015, and in Brazil 23 October 2015.