The official Facebook page for Dragon Ball video games announced today that a Virtual Console download version of Dragon Ball Z: Super Butōden 2, the 1993 Super Famicom (SNES) game, will be exclusive to American gamers ordering Dragon Ball Z: Extreme Butoden for the Nintendo 3DS via Amazon: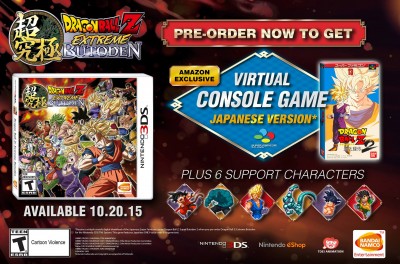 The same six Z-Assist characters (young Son Goku, Garlic Jr., Super Vegetto, Metal Coola, baby Son Goku, and young Son Gohan) will also be available to those who pre-order the game.
Extreme Butōden is available to pre-order on Amazon for $29.99. The game launches in the Americas 20 October 2015.
In Europe, the Super Butōden 2 download will be available to all gamers pre-ordering Extreme Butōden, including the New Nintendo 3DS bundle.
Dragon Ball Z: Extreme Butōden launched in Japan 11 June 2015. First-press copies of the game come packed with bonus content, including a downloadable version of the Super Famicom game Dragon Ball Z: Super Butōden 2 (previously included as a part of the J-Legend Retsuden compilation game; albeit now with replacement music). Arc System Works developed the game for Bandai Namco. The developer previously worked on the Bukū… / Supersonic Warriors games on the Nintendo GameBoy Advance and DS.