From the Chinese microblogging website Sina Weibo comes a glimpse of what appears to be content from next week's 33rd issue of Weekly Shōnen Jump revealing the title of Dragon Ball Super episode 3, scheduled to air 19 July 2015.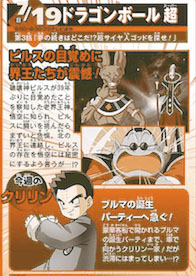 夢の続きはどこだ!?超サイヤ人ゴッドを探せ!
Yume no Tsuzuki wa Doko da!? Sūpā Saiya-jin Goddo o Sagase!
Where Does the Dream Continue?! Find Super Saiyan God!
An episode synopsis is also provided:
ビルスの目覚めに界王らちが震撼!
破壊神ビルスが39年ぶりに目覚めたことを察知した老界王神。悟空に知られ、ビルスに闘いを挑んだらまずいと危惧。北の界王に連絡し、ビルスの存在を悟空には秘密にするよう言うが…!?

今週のクリリン
ブルマの誕生パーティーへ急ぐ!
豪華客船で開かれるブルマの誕生パーティまで、車で向かうクリリン一家!だが渋滞にはまってしまい…!?

---

Kaiō and Co. Tremble at Beerus' Awakening!
The Elder Kaiōshin has sensed that God of Destruction Beerus has awakened after 39 years of slumber. He fears that it will be bad news if Goku learns of this and challenges him to a fight. He contacts the Northern Kaiō, and tells him to keep Beerus' existence a secret, but…?!

Kuririn This Week
Hurry to Bulma's Birthday Party!
Kuririn and family head by car to Bulma's birthday party on a luxurious passenger ship! But they get stuck in a traffic jam…?!
Dragon Ball Super, which began airing 05 July 2015 on Fuji TV, is the first all-new TV series for the franchise in 18 years. The story and characters will be developed by original manga author Akira Toriyama, will star veteran voice actress Masako Nozawa, and will be directed by Kimitoshi Chioka. The series will, "…follow the aftermath of Goku's fierce battle with Majin Boo, as he attempts to maintain earth's fragile peace." A manga adaptation from "Toyotarō" will run each month in V-Jump beginning back in the August 2015 issue.