A widely-circulated tweet from @RyGuy176 yesterday afternoon sent a wave of confusion and anger throughout the Dragon Ball video game community: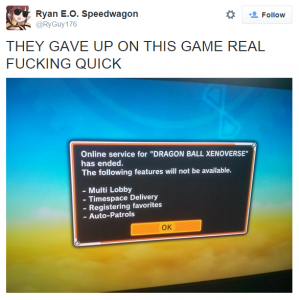 Many users received the same message when signing in to the PlayStation 4 version of Dragon Ball XENOVERSE, while others saw no such message. We at Kanzenshuu were unable to replicate the error.
Speaking to Game Informer, Bandai Namco has stated that the company currently has no plans to deactivate this specific functionality:
BANDAI NAMCO Entertainment America is currently looking into the online connectivity and feature set limitation issues that some players may be experiencing with Dragon Ball Xenoverse. Players should expect full online functionality for Dragon Ball Xenoverse to be restored soon. There are no plans to sunset any online features for Dragon Ball Xenoverse at this time.
Both the American and European branches of Bandai Namco tweeted out similar statements.
Dragon Ball XENOVERSE, developed by Dimps for Bandai Namco, is the latest console video game for the franchise on the PlayStation 4, Xbox One, PlayStation 3, Xbox 360 and PC. The game was released 05 February 2015 in Japan, 24 February 2015 in North America, and in Europe and for the PC 27 February 2015.