The bimonthly September issue of Saikyō Jump, which was recently released 01 August 2015, lays out the remaining August schedule of Dragon Ball Super with what appear to be final episode titles.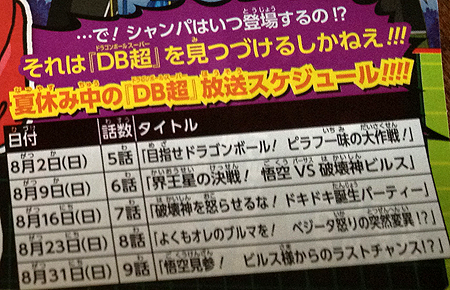 Note that the episode numbers (and the latter-most air date) listed in Saikyō Jump are erroneous and have been corrected below. The 5th episode of Dragon Ball Super, which is incorrectly listed above as episode 6, will air this weekend, with no scheduled breaks the remainder of the month.
Episode #5

— 09 August 2015
界王星の決戦!悟空VS破壊神ビルス
Kaiō-sei no Kessen! Gokū Tai Hakaishin Birusu
Showdown on Kaiō's Planet! Goku vs God of Destruction Beerus

Episode #6

— 16 August 2015
破壊神を怒らせるな!ドキドキ誕生パーティー
Hakaishin o Okoraseru na! Doki-Doki Tanjō Pātī
Don't Anger the God of Destruction! The Heart Pounding Birthday Party

Episode #7

— 23 August 2015
よくもオレのブルマを!ベジータ怒りの突然変異!?
Yokumo Ore no Buruma o! Bejīta Ikari no Totsuzenhen'i!?
How Dare You Hit My Bulma! Vegeta's Furious Mutation?!

Episode #8

— 30 August 2015
悟空見参だ!ビルス様からのラストチャンス!?
Gokū Kenzan da! Birusu-sama Kara no Rasuto Chansu!?
Goku Steps Up! The Last Chance From Beerus-sama?!
The same page also includes another glimpse at Champa and his presumed attendant, with a comment questioning who this mysterious person is with Champa:
シャンパのとなりにいるこの人物!!ウイスっぽいけど……よく見ると女の人!?

---

This person next to Champa!! It looks like Whis, but… if you look closely, it's a woman?!
While this character still remains officially unnamed, it is at least now clear that it is indeed a "her". A quick blurb on the page does wonder when this mysterious duo, which "look super-alike" to Beerus and Whis, will appear in Super, but leaves the question open ended with no actual answer.
Dragon Ball Super, which began airing 05 July 2015 on Fuji TV, is the first all-new TV series for the franchise in 18 years. The story and characters will be developed by original manga author Akira Toriyama, will star veteran voice actress Masako Nozawa, and will be directed by Kimitoshi Chioka. The series will, "…follow the aftermath of Goku's fierce battle with Majin Boo, as he attempts to maintain earth's fragile peace." A manga adaptation from "Toyotarō" will run each month in V-Jump beginning back in the August 2015 issue.