Following a release date change from retailer base.com, Manga UK has officially confirmed their Dragon Ball Z: Resurrection 'F' home release has been delayed from the initially-announced October 26 release date. The as-of-yet undecided release date is due to the "amazing support and enthusiasm for the theatrical release":
I'd like to thank the UK Dragon Ball Z fan community for their amazing support and enthusiasm for the theatrical release of Resurrection of F. Because of you, DBZRF is going out on more screens on its initial opening than any other anime film ever released in the UK previously. That's an amazing accomplishment. However! Because of the unprecedented demand for cinema showings across the country we will have to push back the UK home video release.

One of our retail partners has today notified its customers of a date change. This is not the final date that has been decided. We are currently working very hard to find a new street date that satisfies not only the retailers and theatrical exhibitors requirements, but which also doesn't cause you guys to have to wait any longer than necessary for it on DVD and Blu-ray. Marketing and selling anime is a tricky business as a lot of you know and we are lucky that our audience is especially patient and supportive. I don't think many other companies can claim the same thing. I really hate disappointing you and I can only apologise for any confusion that's been caused by today's events. We will announce a new home video street date imminently and we will work our butts off, as always, to ensure it is as soon as possible.

Thank you so much for helping shape the UK theatrical release of DBZRF and enabling us to get it onto an unprecedented number of screens. This result means that if you are a passionate DBZ fan who wants to see the movie on a local screen, you probably can. That makes me happy. I apologize for any disappointment and inconvenience the home video date change announcement has caused you. Please stay tooned for further announcements from @MangaUK. Meanwhile! Enjoy #DBZRF in cinemas, nationwide from 30th September.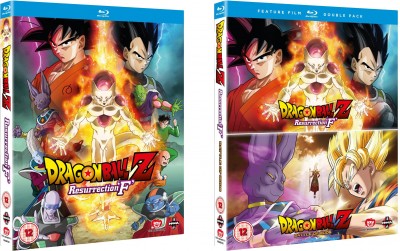 Manga UK will release the film as a stand-alone disc alongside a double-feature pack with the 2013 theatrical film, Dragon Ball Z: Battle of Gods.
Japan will receive their Revival of "F" home release on DVD and Blu-ray 07 October 2015. North America will receive the film from FUNimation 20 October 2015.
The story for Resurrection 'F' (Revival of "F"), which opened nationwide in Japan 18 April 2015 in 2D and IMAX 3D, was crafted by original manga author Akira Toriyama, who stated he wrote it, "…as though it were a continuation of the manga when it was in serialization," and that while it would, "…of course be a continuation of the previous Battle of Gods," he has also, "…deliberately increased the amount of action scenes by a good deal." Tadayoshi Yamamuro, who worked for many years as character designer and animation supervisor on the Dragon Ball franchise, served as the film's director and animation supervisor. Norihito Sumitomo has returned from Battle of Gods and the Majin Boo arc of Dragon Ball Kai for musical composition duties. Momoiro Clover Z contributed "Vow of 'Z'" as the film's main theme alongside Maximum the Hormone, whose "F" is used during the film. Revival of "F" brings back Freeza and includes two new characters (Sorbet and Tagoma), features Beerus and Whis again from Battle of Gods, and much more. The film has been announced for distribution in 74 countries.
Thanks to Baggie_Saiyan for the heads-up.