The 2015 film Dragon Ball Z: Revival of "F" — under its official international English title of Resurrection 'F' — sees its home release tomorrow from FUNimation. Stay tuned here at Kanzenshuu for a more complete review in the near future, but in the meantime, check out these quick facts: it is everything you actually wanted to know about this home release!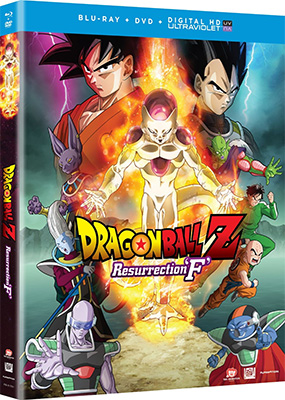 What is "Resurrection 'F'"?
Dragon Ball Z: Resurrection 'F' hit Japanese theaters in wide release 18 April 2015. It is the direct follow-up to the 2013 theatrical film, Dragon Ball Z: Battle of Gods. As opposed to Battle of Gods where original manga author Akira Toriyama did not enter the creative process until a script had already been developed, with Resurrection 'F', the majority of the script (including character dialog and designs) was directly handled by Toriyama from the start. Norihito Sumitomo (of Battle of Gods, the Majin Boo arc of Dragon Ball Kai, and now Dragon Ball Super) provided the musical score. Longtime animator and character designer Tadayoshi Yamamuro stepped up into a directorial role for the first time.
Why are there multiple titles for this film?
Upon the film's title unveil in Japanese, we at Kanzenshuu decided on a translation of Revival of "F" (from 復活の「F」 or Fukkatsu no "F"), which stuck heavily within fandom. Months later, Toei began providing licensees with materials that used their own official translation of Resurrection 'F'. Either title is accurate, and is a good look into the art of translation.
Is this release in English or Japanese?
As with pretty much all of FUNimation's home releases since 2000, this release includes the original Japanese audio track (with accompanying English subtitle translations) along with the company's own English dub.
Is a digital release available?
Yes. An Ultraviolet version is included with Blu-ray releases. Digital versions are also available via various rental and streaming services such as iTunes, Amazon, PlayStation Store, Xbox Live, etc. Both the original Japanese version and the English dub are available.
Which region is encoded onto the Blu-ray?
The disc is solely encoded for Region A. Manga UK will be releasing their own version of this release in the near future, following an extension of its successful theatrical run.
Are there any differences between the theatrical version and the home release?
No. Unlike with Battle of Gods, there is no extended edition of Resurrection 'F'. This release is identical to the version screened in theaters.
Who provided the translation for the subtitles?
Long-time Dragon Ball fan and FUNimation translator for the franchise Steven J. "Daimao" Simmons is credited with the translation.
Are all of the audio tracks provided in 5.1 surround sound?
Both the original Japanese and English dub are indeed presented in 5.1 surround sound.
What types of releases are available?
A single-disc DVD release, a two-disc DVD & Blu-ray combo pack, as well as a collector's edition combo pack are available.
What is exclusive to the collector's edition?
In addition to slipcover packaging, also included are four holographic "Frieza Force propaganda postcards."
What kinds of special features are included?
Two featurettes are included along with other, shorter videos:
"The Voices of Dragon Ball Z: They're Back!" (7:03) – Scenes from the film with overlaid boxes of the English voice actors performing the lines.
"The Return of Dragon Ball Z" (40:43) – Footage from FUNimation's April 2015 subtitled theatrical premiere in Los Angeles, FUNimation's July 2015 theatrical English dub premiere in Los Angeles, as well as interview footage with Masako Nozawa, Tadayoshi Yamamuro, and English voice cast & crew
Textless Closing Song (3:43) – A creditless version of the movie's closing theme song.
U.S. Trailer (1:15) – FUNimation's English-language trailer for the film.
Trailers – Promotional videos and trailers for various FUNimation-licensed shows.
FUNimation's pre-show trivia showcase from the American theatrical screenings is not present on the home release.
What is different from the Japanese collector's edition?
The Japanese collector's edition, released earlier this month (07 October 2015), contained a Golden Freeza alarm clock and a 498-page story board book in addition to a standard, 16-page "Special Booklet" featuring character designs, profiles, etc.
Are the original versions of the songs kept in the Japanese language track?
For context: even in the Japanese language audio track, FUNimation's Battle of Gods release featured English versions of both "Hero: Song of Hope" and "CHA-LA HEAD-CHA-LA" performed by FLOW. For Resurrection 'F', the original Japanese version of "F" by Maximum the Hormone is kept in both audio tracks, while Momoiro Clover Z's own English version of "Oath of 'Z'" is present in both audio tracks.
Are the end credits only provided in English?
Yes, the credits are exclusively written in English accompanied by the English version of Momoiro Cover Z's "Oath of 'Z'". The Japanese cast is attributed to character names as they appear in the subtitles (Kuririn, Tenshinhan, etc.). A full translation of the entire credits is available in our "Movie Guide".
Is ______ kept in the English dub?
Check out our "Quick Facts" post from the English dub theatrical premiere — many items of interest have been addressed separately there.
Where can I purchase this home release?
Most retailers carry the movie. It is also available online from retailers such as Amazon.
I want to know more about this movie!
Head on over to the respective page in our "Movie Guide" for anything and everything you ever wanted to know about Resurrection 'F'! We have interview translations, character designs, links to our podcast reviews, and much more.
How does Dragon Ball Super affect this movie's story?
As it did with Battle of Gods, the Dragon Ball Super TV series will also adapt Resurrection 'F' into its own story before heading into all-new material.