Today's eighteenth episode of Dragon Ball Super in Japan introduced Champa and Vados for the first time in the TV series. The ending credits list Mitsuo Iwata as the voice of Champa, while Yuriko Yamaguchi provides the voice of Vados.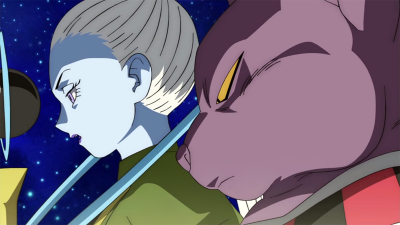 Champa, the God of Destruction for Universe 6, was introduced and teased earlier this year ahead of the TV series' debut. "Champa" (シャンパ / shanpa) is pronounced with a "sh" sound at the beginning, in all likelihood taking its inspiration from シャンパン (shanpan or "champagne"), following with Beerus' and Whis' name pun series.
Though introduced early on in the promotional cycle as well, it was not until last month's fifth chapter of Toyotarō's Dragon Ball Super manga adaptation in V-Jump that Vados received a name. Vados' name (ヴァドス / vadosu) is likely taken from "calvados" (カルヴァドス / ka·ru·va·do·su), an apple brandy also of French origin.
Both characters appeared early on in Toyotarō's Dragon Ball Super manga adaptation, though they have not shown up in any of the corresponding TV episode material; their introduction here in episode eighteen roughly matches the material at the end of the fourth manga chapter. The V-Jump manga has recently moved on ahead with future Champa material, having skipped the forthcoming Freeza story arc.