Today's March 2016 issue of V-Jump reveals a new game in development for the Nintendo 3DS in Japan: Dragon Ball: Project Fusion.

The brief V-Jump teaser splash talks of fusing the world together in the upcoming RPG, including different islands and cities, while Tenshinhan ponders who might be responsible for this.
In conjunction with the game, Shueisha and their partners will run a contest where entrants can submit their own designs for two Dragon Ball characters fused together, with the winning design(s) to appear in the game, as well as a special "manga project" in Saikyō Jump. Select runners-up will also receive an "Extreme Heroes W (Double) Pack" signed by Masako Nozawa.
By way of a company blog post, it appears that Ganbarion will be the developer for the game. In addition to games for various other licensed properties such as One Piece, most notable to Dragon Ball fans will be Ganbarion's work on both Jump Super Stars and Jump Ultimate Stars for the Nintendo DS.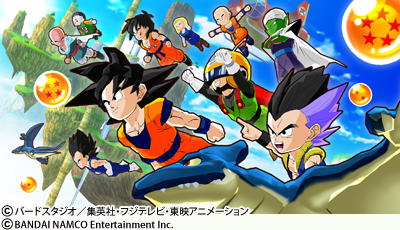 A fusion creation contest was previously held in 1995. Weekly Shonen Jump 1995 #13 (which contained Dragon Ball chapter 508) announced the contest, with the winners featured later in the 1995 #19 issue (which contained Dragon Ball chapter 514). Of note were Akira Toriyama's own contribution of "Piririn" (a fusion of Piccolo and Kuririn) for the contest announcement, and a "Gohanks" entry (a fusion of Gohan and Trunks) submitted by future To-Love-Ru artist Kentaro Yabuki.
The Project Fusion game is scheduled for a nebulous 2016 release in Japan. A teaser website has opened at dbpf.bn-ent.net.