The fourth collected volume of Naho Ooishi's Dragon Ball SD — the spin-off/re-telling of the Dragon Ball series currently being serialized in Saikyō Jump — is set for a print release in Japan this week.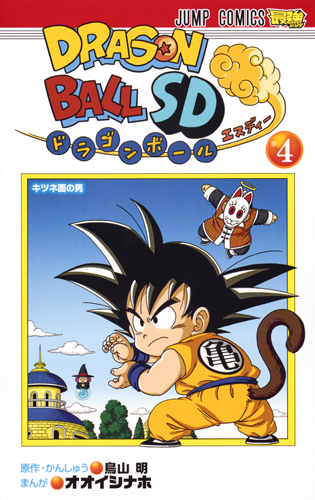 最後のドラゴンボールのありかを求めて、占いババの元を訪れた悟空たち。ババが用意した5人の選手に勝てば、占ってくれるというが…!? SDだけのオリジナル・エピソードも続々登場で、原作ファンも必見!

---

Seeking the whereabouts of the final Dragon Ball, Goku & co. pay a visit to the fortunetelling crone. If they win against the five competitors she has brought out, she will divine its location for them, but…?! With original episodes found only in SD, it's a must-see even for fans of the original manga!
The volume picks up with Chapter 29 of the monthly/bimonthly reboot of the comic as Goku and friends visit the old fortuneteller, and going by previous chapter totals, will likely conclude a ways into the 22nd Tenka'ichi Budōkai. Within this material is a short bout of extra chapters telling stories not found in the original manga: "Goku's Solitary Training Arc".
The 192-page tankobon-sized volume runs ¥600 plus tax and preserves the full-color presentation from its original Saikyō Jump serialization. The collected volume will also come packed with a Super Saiyan Vegetto card for Dragon Ball Heroes (GDPJ-18).
Volume 4 of the collected Dragon Ball SD is available to order from CDJapan and Amazon Japan. While the print edition is due out this week (04 February 2016), the digital edition will not see a release until next month (04 March 2016); the third collected volume also saw a staggered print vs. digital release back in 2014. Chapter 41 of the reboot will also see its serialization in this week's March 2016 issue of Saikyō Jump in Japan.
Dragon Ball SD began with Saikyō Jump as a quarterly publication with four total issues in 2011 re-telling major aspects of the franchise in an even more childish tone. When the magazine switched to a monthly format in 2012, Dragon Ball SD started over at the very beginning of the series with the same kind of writing and artistic style. The publication switched to a bimonthly release schedule in late-2014.