Scriptwriter King Ryū recently announced via his personal "Behind the Mask" website that Toei Animation has charged him with the responsibility of series composition for the Dragon Ball Super TV series beginning with the "God of Destruction Champa" story arc.
King Ryū is in charge of series composition for the new chapter, the God of Destruction Champa story arc:

Thank you for supporting King Ryū all this time.

A lot has happened, and so for the duration of this new chapter, the "God of Destruction Champa Arc" (*from beginning to end), King Ryū will be in charge of series composition.

After the "Battle of Gods" and "Revival of 'F'" story arcs, which were based on movies, this "God of Destruction Champa" story arc will be the start of a totally new work. Both the story and characters spring from Akira Toriyama-sensei's pen, a Dragon Ball nobody has ever seen before. In order to be faithful to the scenario sensei has given us, and also to make an anime series that everyone can enjoy, I shall do my very best to make this series together with director [Kimitoshi] Chioka.

The first episode of the "God of Destruction Champa arc" (episode 28) airs 24 January 2016.

Thank you all very much.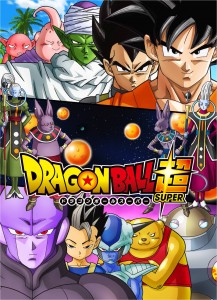 King Ryū is the pen name of an unknown scriptwriter for the Japan Creative Management Company. He made his debut as a scriptwriter in 2014 for Marvel's Disk Wars: Avengers, eventually being appointed the role of series composer. Following the finale of Disk Wars in March 2015, King Ryū was hired as a script writer for Dragon Ball Super, writing the script for the second episode and numerous others following that. With this announcement, it is no surprise that King Ryū is currently listed as the scriptwriter for six of the first seven episodes of the "God of Destruction Champa" story arc.
When Dragon Ball Super debuted in July 2015 it did not have a series composer, as is common with most TV series adaptations. While the series composer is typically responsible for determining and establishing the overall plot of the series, it appears, as King Ryū mentions, that the first two story arcs were merely based on the movies and therefore there was no need for a series composer. It should be noted that as of this post King Ryū has not been officially credited as the series composer in the TV series.
Thanks to Sodhi and JacobYBM for giving us the heads up.
UPDATE: King Ryū's blog post announcing his appointment as series composer has since been removed.