Originally teased as Dragon Ball: Project Fusion, the upcoming Nintendo 3DS game has been unveiled as Dragon Ball Fusions in the May 2016 issue of V-Jump this week in Japan. The main promotional image for the game hypes up "the Astonishing Birth of the Forbidden Fusion Warrior, Karoli!" (a fusion of "Kakarrot" and Broli).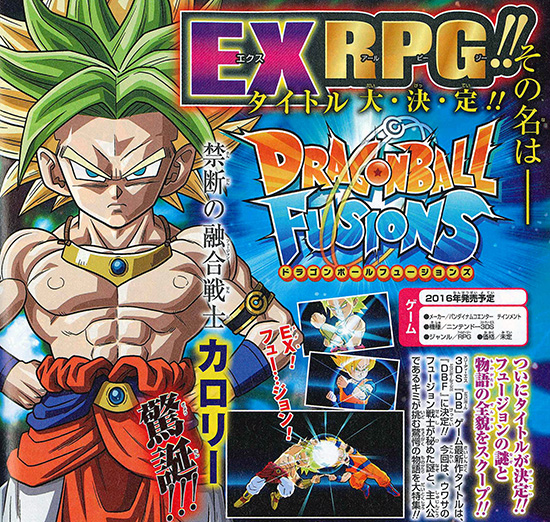 The game will feature a new "EX Fusion" system utilizing an armband. With Kuririn as a base, three potential fusions are showcased:
Piririn (the result of an ordinary fusion with Piccolo)
Goririn (an EX Fusion with the boyhood version of Son Goku)
Kurigohan (an EX Fusion with the boyhood version of Son Gohan)

"Piririn" is an original design by Akira Toriyama from a reader-created fusion contest announced in the 1995 #13 issue of Weekly Shōnen Jump in Japan.
The world of the game, where various different time periods are fused together, was created when you (the main character) and your friend Pinijji wished to Shenlong to "hold the mightiest of tournaments!" The goal of the game is to win the Jiku-Ichi Budōkai ("Strongest in Time and Space" Tournament).
The main character is promoted as your "alter-ego" and can be customized within five different races:
Namekians
Otherworlders
Aliens
Saiyans
Earthlings

Dragon Ball Fusions is currently under development by Ganbarion for a nebulous 2016 release by Bandai Namco on the Nintendo 3DS in Japan. No international localization has been announced as-of-yet. The game's official website has been updated with the new logo and title, with a promise for additional information in the near future.