The May 2016 issue of Saikyō Jump in Japan (released 01 April 2016) has announced an upcoming "Digest Edition" (Sōshūhen) re-release of the Dragon Ball manga. Touted as allowing the reader to "enjoy Dragon Ball the same way as when it was serialized in Jump", the volumes will be the same size as the original Weekly Shōnen Jump serialization (JIS B5; 18.2 × 25.7 cm) and will contain roughly 400–500 pages each, which should give readers a substantial chunk of the series with each volume. Page quality will likely be comparable to similar releases such as the One Piece "Log" or Naruto "Uzumaki Daikan" collections: magazine-format, with thinner paper than the Kanzenban, but better than Jump, with semi-glossy paper for full-color pages.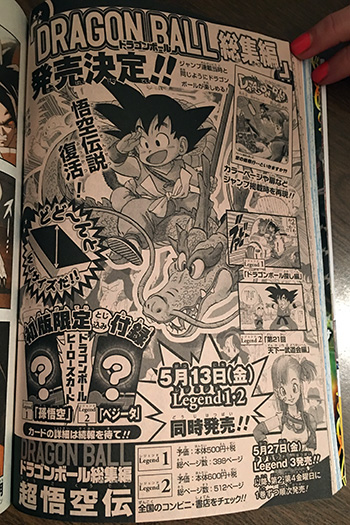 The ad also puts special focus on the chapters that first appeared in color, along with their title pages, stating that volumes will "reproduce [the pages as] when they ran in Jump"; seemingly supporting this statement, the title page of Chapter 2 is seen with its promotional text along the bottom, which was removed for the Kanzenban release. It remains to be seen, however, whether this commitment also extends to items such as additional coloration, contemporary promotions or contests, and mistakes that were corrected for subsequent collected releases.
The first two volumes will hit Japanese shelves 13 May 2016. "Legend 1" will span 398-pages and retail for ¥500 + tax, while "Legend 2" will span 512-pages and retail for ¥600 + tax. "Legend 1" will include a "Son Goku" Dragon Ball Heroes card, while "Legend 2" will have a "Vegeta" card. "Legend 3" will follow 27 May 2016, with the second and fourth Friday of each subsequent month seeing one new volume apiece, whose details will likely be revealed as their release date draws closer.