The first collected volume of Toyotarō's Dragon Ball Super manga — originally and currently serialized on a monthly basis in Shueisha's V-Jump magazine — officially hit Japanese shelves 04 April 2016 for ¥400 + tax. Spanning 192 pages, the volume covers the first nine chapters, the Jump Victory Carnival 2015 bonus comic, and also includes an interview between Toyotarō and original manga author Akira Toriyama.
While the Revival of "F" (Resurrection 'F') arc indeed remains skipped in this compilation, a humorous in-betweener from Sorbet acknowledges this "in-universe" to a degree.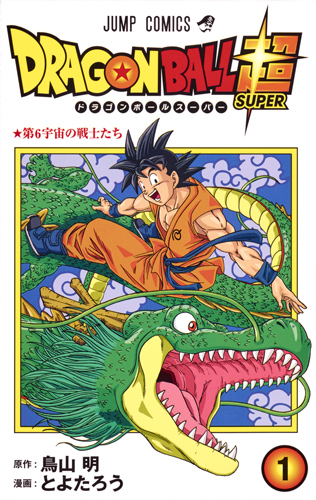 In the interview, the duo discuss returning to a tournament for the latest story in Dragon Ball Super, the appeal of Toriyama's artwork, and what aspects Toyotarō could improve upon:
Toyotarō: U-Um… Really? There's nothing you think needs to be fixed or thrown out? Don't hold back for my sake… (sweat).

Toriyama: Hahahaha (loud laughter). Not really… (thinks about it a little bit). Nope, not a thing! Well OK… If I have to say something, then I guess your compositions would be even better if you utilized more diverse angles. Also, I think it would be great if you included more of your own original ideas. I'm really grateful to you. I never thought an artist like you would come along to draw the continuation of my story!
Shueisha published an addendum to the interview — which "couldn't fit" in the volume — on the official V-Jump website, where the duo discuss Toyotarō's history with the series, Toriyama's supervisory role in reviewing the manga, and where Dragon Ball Super will head in the future.

In particular, Toriyama discusses the ever-changing color of Super Saiyan hair along with — continuing on from the book version's of the interview — reiterating that a "pretty popular character" is set to make a return:
Toyotarō: I've read the plot for the new story, and I'm really happy a certain future-related character is going to be involved. I'm a huge fan!

Toriyama: That's a pretty popular character! Hopefully the kids will be happy.
The print edition of the manga is currently available for purchase via CDJapan. A digital release of the collected manga volume will follow on 02 May 2016. The eleventh chapter of Toyotarō's Dragon Ball Super manga will be published within the June 2016 issue of V-Jump set for release in Japan 21 April 2016.