Following up on Toriyama's first two print interviews from 1980, today we are adding one more pre-Dragon Ball translation to the pile: an article from FOCUS magazine's 1982 #19 issue. In the article, Shinchosha's photo-essay magazine focused on Akira Toriyama's wedding and his drastic increase in annual income.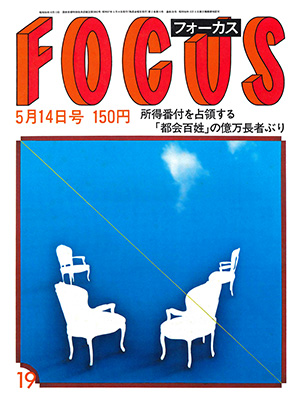 The article goes on to discuss Toriyama's courtship with his newly-wed wife as well as his income, which in the article's own terms, solidified him as a "bona fide rich man." As was common for the time, press and fans alike wondered where the author was heading, and if it was possible for him to top Dr. Slump with anything of substance and staying-power:
What concerns us poor people more than anything is how he will spend that 539,240,000 yen. However, about 430 million of this great sum is taken out in taxes. Even as a bona fide rich man, he thought of these taxes as "harsh". So, what's left is a little over 100 million yen. This was used to buy a 260-tsubo plot near his home and build a house on it, so now it's all gone. For the time being, he'll be able to continue living off the "Arale-chan boom", but he won't be able to rely on Arale-chan forever. "My comic won't change after I'm married", he says, but what sort of characters will this "rich man", who in two years has acquired a mansion and taken a bride, come out with from within the walls of his estate?
This article has been archived in our "Translations" section.
As with our prior pre-Dragon Ball translations, our goal is not necessarily to catalog them all, but rather to (at the very least) pinpoint the milestones along the way that led up to Dragon Ball.