As part of their upcoming "Universal Jump Summer" 2016 line-up, with the tagline "The Legends, Grow Restive", Universal Studios Japan has announced the inclusion of a new CG animated Dragon Ball attraction: "Dragon Ball Z: The Real 4-D".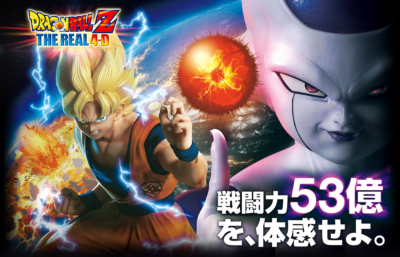 超(スーパー)サイヤ人・孫悟空 VS 宇宙の帝王・フリーザの大激闘が再び!
ドラゴンボール史で語り継がれる伝説の超人2大パワーの大激突が大迫力の4-Dアトラクションとなって登場。

---

Re-experience the fierce showdown between Super Saiyan Son Goku and space emperor Freeza!
This legendary clash of mighty super-humans passed down throughout Dragon Ball history makes its debut as a thrilling 4-D attraction.
This first-ever 4-D Dragon Ball attraction is advertised to feature completely original full CG animation of the epic battle between Super Saiyan Son Goku and Freeza. It is also promoted to provide fans with an "unprecedented experience of realistic quality" and will feature "non-stop attacks", including hand-to-hand combat, delivering a "succession of excitement to the very end!"
The Dragon Ball attraction will premiere on 01 July 2016 and run until 04 September 2016 (which is subject to change), joining other established attractions from the popular Jump series One Piece and Death Note.
The One Piece attraction, entitled "One Piece: Premier Summer", includes an updated "Premier Show 2016" live stage show centered around Luffy and Shanks, "Sanji's Pirate Restaurant" with a French-inspired menu, and the "One Piece Water Battle" where spectators can participate in a real water battle between the Donquixote Pirates and the Marines. "Death Note: The Escape", the 2016 Death Note attraction, features a "realistic escape game" designed by SCRAP where participants in teams of four must solve the interactive mystery laid out inside a four-storey tall replica of the "Sakura TV" building within the allotted time limit.
Express passes to these attractions are scheduled to go on sale 20 May 2016.