Bandai Namco has released a new fifteen-second commercial for their upcoming Nintendo 3DS game, Dragon Ball Fusions:
The commercial urges the player toward, "… an encounter with super warriors never seen before," where you will search and collect, though the adventure does not just end there in this "dream fusion RPG!" The commercial ends with a tease of the first-pressing bonus material (an in-game download code for Super Saiyan God Super Saiyan Son Goku, as well as a "Gohanks: EX" card for the Dragon Ball Heroes arcade game).
The character card list shown via in-game screens goes from the player's avatar at "No.000" up through Jaco at "No.095" with the progress bar only roughly a quarter-way-scrolled. A subsequent screen asks players to "choose the second character" in a fusion tree showing conditions for the fusion, such as energy requirements, and other options.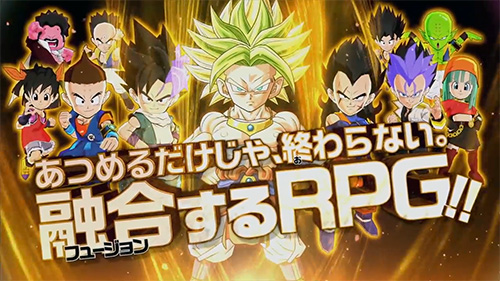 Thanks to TheDevilsCorpse for the heads-up!
Dragon Ball Fusions (originally revealed as "Project Fusion") is currently under development by Ganbarion for a 04 August 2016 release by Bandai Namco on the Nintendo 3DS in Japan. No international localization has been announced as-of-yet.