This week's August 2016 issue of Shueisha's V-Jump magazine in Japan contains a brief update on Bandai Namco's upcoming console video game, Dragon Ball XENOVERSE 2.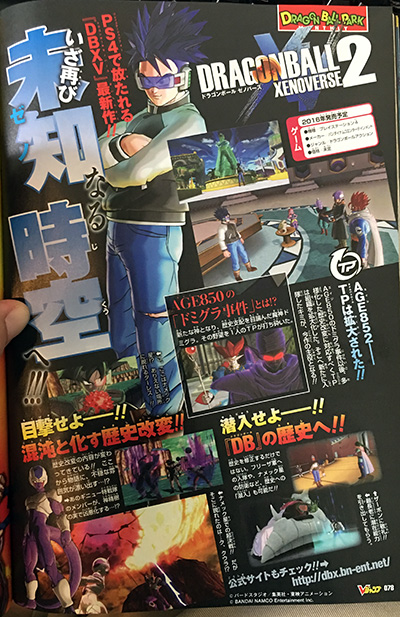 The game will be set in Age 852, two years after the "Demigra Incident" (i.e., the first game) in Age 850. The time patrol has since expanded, and players will take on the role of a new recruit. History is changing again, with Tullece (from Dragon Ball Z Movie 3) and Coola (from Dragon Ball Z Movie 5) appearing on Namek, the Ginyu Force powering up from Shinsei-ju fruit, etc. This time the player will not merely fix history, but will "infiltrate" it as well, such as going undercover to join Freeza's army.
Dragon Ball XENOVERSE 2 is in development for the PlayStation 4, Xbox One, and PC. The game is set for release in Japan this winter, with a 2016 release planned for international territories.
The original Dragon Ball XENOVERSE, developed by Dimps for Bandai Namco, was announced in May 2014 and launched in February 2015 for the PlayStation 3, PlayStation 4, Xbox 360, Xbox One, and PC (via Steam) internationally. The game saw a user-created character teaming up with Trunks and the Kaiōshin of Time to correct anomalies and disruptions to the timeline caused by the villains Mira, Towa, and Demigra. As of February 2016, the game had shipped over three million copies worldwide.