While our primary goal here at Kanzenshuu is to document Dragon Ball information, this occasionally does extend to tangential material. This includes "pre-Dragon Ball" interviews with Akira Toriyama, which help explain where Dragon Ball came from and how Dr. Slump would ultimately shape his storytelling. As Toriyama's career extends into and beyond Dragon Ball, our coverage may also include material during Dragon Ball's downtime. Our latest interview translation is one of these pieces!
Toriyama's friendship with manga author Masakazu Katsura (DNA², Video Girl Ai, I"s, Zetman, etc.) spans decades, and this friendship has seeped into Dragon Ball itself in subtle ways: it was Katsura himself who supposedly came up with the idea of fusion, for example.
The duo's friendship and collaboration continued through two specific works of interest as they relate to our latest translation: Sachie-chan GOOD!! in 2008, and JIYA in 2010. While Dragon Ball fans may know the Galactic Patrol by way of Jaco, the space organization actually began with these two prior one-shots.
Immediately after wrapping up JIYA's serialization, the 2010 #7 issue of Weekly Young Jump published a special behind-the-scenes interview with the duo. Toriyama and Katsura talk about their collaboration process, while Toriyama goes more in-depth about writing for a slightly-older audience; meanwhile, Katsura provides a few jabs at his friend's expense:
Katsura:
This is the first time you've let the "dere" part of a "tsundere" come out, isn't it? I mean, even when Bulma hooked up with that prematurely-balding guy, she wasn't all over him.

Toriyama:
Vegeta is not balding! How dare you show such disrespect…!

Katsura:
So the fact that this time, Kaede, a bit unlike Bulma, shows something of a romantic side…

Toriyama:
Look, that's because this is a seinen magazine. (laughs)
Perhaps most relevant to Dragon Ball is a previously-unpublished storyboard page for an entirely different version of the series. Over 40 pages were apparently drawn of this alternate take, where both the alien character and the man he encounters are completely different from in JIYA.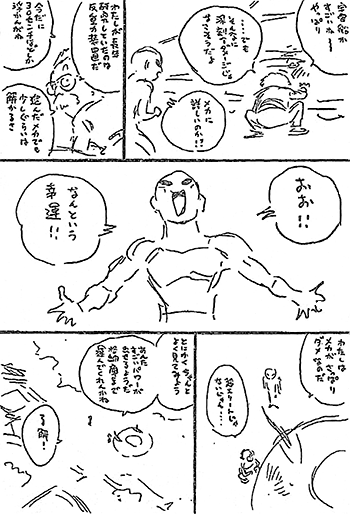 The dialog in this one particular storyboard page — referencing a downed-spaceship, a "Super-Elite," super-strength, and more — may sound oddly familiar some six years later, even beyond the Galactic Patrol setup in JIYA itself. It would seem that Toriyama took these unfinished ideas and adapted them almost directly into Jaco the Galactic Patrolman in 2013!
This interview has been archived in our "Translations" section. Stay tuned for additional Toriyama and Katsura antics translations!