The European and American branches of Bandai Namco have detailed various pre-order bonus items coming for Dragon Ball XENOVERSE 2, along with various premium versions of the game's physical release.
European players who pre-order the game will receive "Goku Black" (from the current "Future Trunks Arc" of the Dragon Ball Super TV series) as a playable character, along with T'ao Paipai's broken column as an airborne vehicle.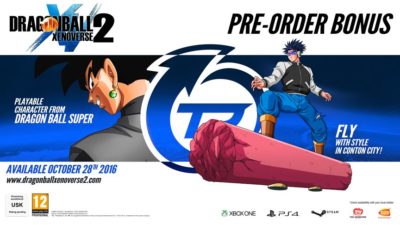 A "Collector's Edition" will come packed with an "exclusive box design", a 34cm Son Goku figure, and a "Time Patroller's Guide".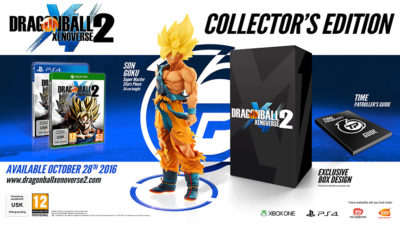 Finally, a "Deluxe Edition" provides additional digital content including "early access" to Future Trunks (as designed in the current "Future Trunks Arc" of the Dragon Ball Super TV series), as well as the game's season pass. The season pass is set to cover four different packs of downloadable content, which will include: playable characters, episodes and quests, masters and masters quests, stages, as well as skills, costumes, and accessories.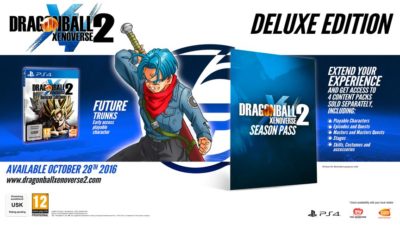 American players that pre-order will also be able to secure the same "Goku Black" playable character and vehicle: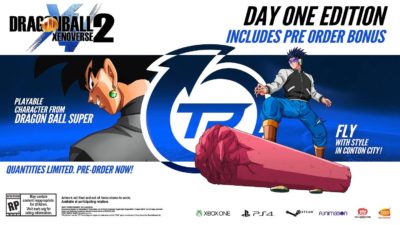 The American "Collector's Edition" is set to include an exclusive steelbook case, an official music soundtrack, a Son Goku Master Stars Piece 13 inch figure, "Time Patroller's Guide", and a collector's box.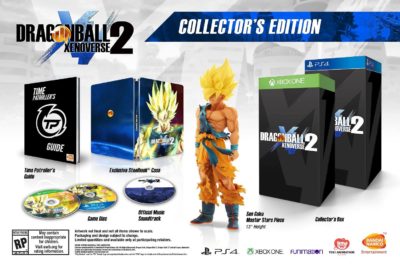 An American "Deluxe Edition" will also be available, with the same "Future Trunks" playable character available ahead of his normal release, along with the game's downloadable content season pass: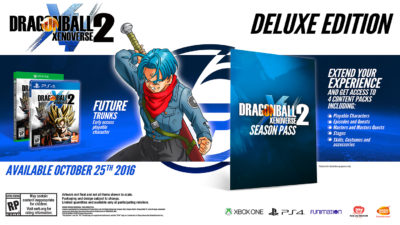 New screenshots showcasing the game's new customization options were also provided:
Dragon Ball XENOVERSE 2 is in development for the PlayStation 4, Xbox One, and PC. The game is set for release in Japan this winter. In North America, the game will launch for consoles 25 October 2016 with a PC release following 28 October 2016. In Europe, the game will launch across all platforms 28 October 2016.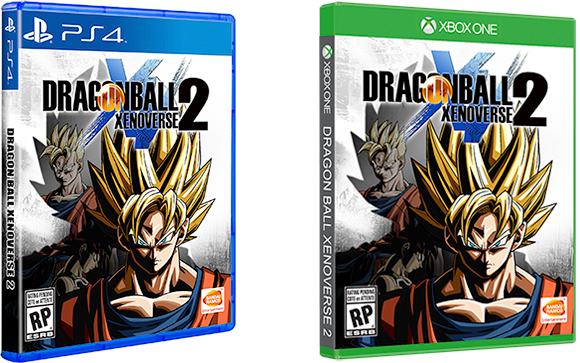 The original Dragon Ball XENOVERSE, developed by Dimps for Bandai Namco, was announced in May 2014 and launched in February 2015 for the PlayStation 3, PlayStation 4, Xbox 360, Xbox One, and PC (via Steam) internationally. The game saw a user-created character teaming up with Trunks and the Kaiōshin of Time to correct anomalies and disruptions to the timeline caused by the villains Mira, Towa, and Demigra. As of February 2016, the game had shipped over three million copies worldwide.