A new Amazon listing for Viz's first volume of the Dragon Ball Super manga's print edition is dated for 02 May 2017.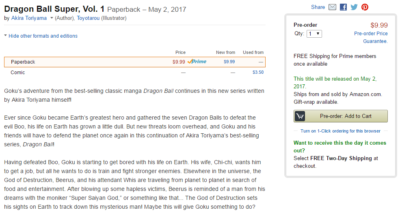 Though the listing notes Akira Toriyama as the "author" and Toyotarou as the "aritst", the text provided misleadingly describes this particular product as, "…written by Akira Toriyama himself!"; while the underlying story is indeed provided by Akira Toriyama, both Toyotarō and Toei Animation have been free to make their own embellishments and adjustments to the manga and TV series, respectively.
Goku's adventure from the best-selling classic manga Dragon Ball continues in this new series written by Akira Toriyama himself!

Ever since Goku became Earth's greatest hero and gathered the seven Dragon Balls to defeat the evil Boo, his life on Earth has grown a little dull. But new threats loom overhead, and Goku and his friends will have to defend the planet once again in this continuation of Akira Toriyama's best-selling series, Dragon Ball!

Having defeated Boo, Goku is starting to get bored with his life on Earth. His wife, Chi-chi, wants him to get a job, but all he wants to do is train and fight stronger enemies. Elsewhere in the universe, the God of Destruction, Beerus, and his attendant Whis are traveling from planet to planet in search of food and entertainment. After blowing up some hapless victims, Beerus is reminded of a man from his dreams with the moniker "Super Saiyan God," or something like that… The God of Destruction sets his sights on Earth to track down this mysterious man! Maybe this will give Goku something to do?
The Dragon Ball Super manga began in June 2015 as a promotional tie-in for the television series. The manga runs monthly in Shueisha's V-Jump magazine, with the series' fourteenth chapter set to be released this week in the magazine's September 2016 issue. Illustrated by "Toyotarō" (in all likelihood, a second pen-name used by Dragon Ball AF fan manga author and illustrator "Toyble"), the Dragon Ball Super manga covered the Battle of Gods re-telling, skipped the Resurrection 'F' re-telling, and "charged ahead" to the Champa arc to act as further promotion for the television series. The first collected volume, covering the first nine chapters and one bonus chapter, was released this past April in Japan. Viz has thus far made the first three chapters available on their website for free.
Thanks to @Adil_OPP for the heads-up!