Bandai Namco has shared the second Japanese promotional video for the upcoming video game Dragon Ball XENOVERSE 2:
The new video showcases more context from previous teases, such as Coola appearing alongside his brother Freeza on Namek, Tullece sharing the Shinsei-ju fruit with Slug, and Gogeta fighting against Janenba in Dragon Ball Z Movie 12's version of Hell. The video also showcases battles against giant bosses such as Great Apes and giant Namekians. New methods of main hub transportation, training mentors, and customization are also shown in the video.
In conjunction with last week's September 2016 issue of V-Jump, the video also confirms the appearance of the "Masked Saiyan" (Time Breaker Bardock, originally from Dragon Ball Online, and later used in Dragon Ball Heroes).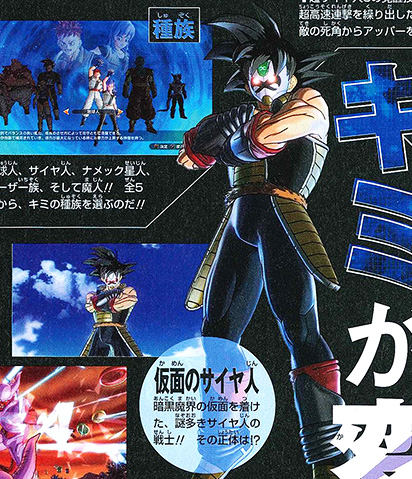 The Japanese release will also feature the same pre-order bonus items as the international release: "Goku Black" as a playable character and T'ao Paipai's broken column as a hub city vehicle.
Dragon Ball XENOVERSE 2 is in development for the PlayStation 4, Xbox One, and PC. In North America, the game will launch for consoles 25 October 2016 with a PC release following 28 October 2016. In Europe, the game will launch across all platforms 28 October 2016. In Japan, the game will exclusively launch on the PlayStation 4 console 02 November 2016.
The original Dragon Ball XENOVERSE, developed by Dimps for Bandai Namco, was announced in May 2014 and launched in February 2015 for the PlayStation 3, PlayStation 4, Xbox 360, Xbox One, and PC (via Steam) internationally. The game saw a user-created character teaming up with Trunks and the Kaiōshin of Time to correct anomalies and disruptions to the timeline caused by the villains Mira, Towa, and Demigra. As of February 2016, the game had shipped over three million copies worldwide.