Shueisha's official Saikyō Jump website has announced that the upcoming September 2016 issue of the magazine will contain a new Dragon Ball Heroes spin-off manga: "Dark Demon Realm Mission" (暗黒魔界ミッション / Ankoku Makai Misshon).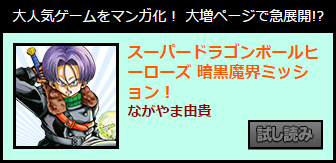 The Super Dragon Ball Heroes: Dark Demon Realm Mission spin-off — tying in with on-going Dragon Ball Heroes arcade missions along with the game's upcoming Super Dragon Ball Heroes update — will be contributed by Charisma Mission author Yoshitaka Nagayama.
The September 2016 issue of Saikyō Jump is due out in Japan 05 August 2016 for ¥530 and is available for pre-order via CDJapan and Amazon Japan.
While the issue is confirmed to continue with the Dragon Ball SD spin-off/retelling by Naho Ooishi (which will kick off a major time-skip next issue), it remains to be seen which of the various other spin-offs will continue onward in light of Nagayama taking on more work. The most recent (July 2016) issue of the bi-monthly publication contained entries from five on-going Dragon Ball manga publications: Dragon Ball Fusions the MANGA!!, Dragon Ball Discross Divine Power God MAX!!, Dragon Ball Heroes Super Charisma Mission!, Dragon Ball SD, and the Dragon Ball GT anime comic.
UPDATE: Kanzenshuu received the following response from Nagayama on Twitter regarding the upcoming manga and the question of what might happen with the existing Charisma Mission series-
新連載というよりは、連載中の超カリスマミッションの暗黒魔界編だと思っていただけたらと思います(^ ^)
カリスマたちも読者の方々と一緒に暗黒魔界編を見て、研究しているところです(^O^)

---

Rather than a new series, I'd prefer that you think of it as the "Dark Demon Realm Arc" of the currently-serialized "Super Charisma Mission" (^ ^)
The Charismas are watching the Dark Demon Realm arc of the game together with the readers, and doing research on it (^O^)