Dragon Ball Fusions for the Nintendo 3DS has been listed on the Brazilian Ministry of Justice's ratings website.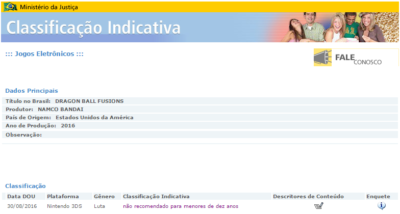 The listing notes the United States as the country of origin; in addition to the United States, the American branch of Bandai Namco is also responsible for game distribution in Brazil and Latin America.
Dragon Ball Fusions, developed by Ganbarion for Bandai Namco, is the latest Dragon Ball franchise video game and is exclusively available on the Nintendo 3DS in Japan. Check out Episode #0409 of our podcast for our first impressions with the game.
Thanks to Gematsu for the heads-up.