Bandai Namco has announced that the collector's edition of the upcoming Dragon Ball XENOVERSE 2 video game will include a bonus manga by Toyotarō.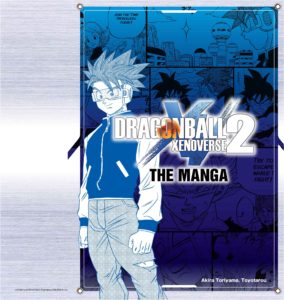 UPDATE: In sharing the first page of the manga, Bandai Namco has clarified that the manga will be part of the existing "Time Patroller's Guide" already set for inclusion with the Collector's Edition. The manga also includes a special message from original author Akira Toriyama:
I've been drawing manga less often these days, so Toyotaro has has taken up the mantle of drawing Dragon Ball. I still contribute the basic ideas, but Toyotaro's wonderful skills allow the Dragon Ball universe to be brought back to life in the present.
Additionally, Toyotarō will be doing a signing from the Bandai Namco Mobile Booth at New York Comic Con 08 October 2016 from 1:00 to 2:00 p.m.
Dragon Ball XENOVERSE 2 is in development for the PlayStation 4, Xbox One, and PC. In North America, the game will launch for consoles 25 October 2016 with a PC release following 28 October 2016. In Europe, the game will launch across all platforms 28 October 2016. In Japan, the game will exclusively launch on the PlayStation 4 console 02 November 2016.
Toyotarō currently works on the Dragon Ball Super manga adaptation, which runs monthly in Shueisha's V-Jump magazine, having previously contributed the Dragon Ball Heroes: Victory Mission series and a three-chapter Resurrection 'F' introduction. "Toyotarō" is, in all likelihood, a second pen-name used by Dragon Ball AF fan manga author and illustrator "Toyble".