During today's Dragon Ball XENOVERSE 2 promotional live stream, Bandai Namco announced that Frost and Cabba (spelled as "Kyabe" in the company's announcement) will eventually make their way to the game in its first downloadable content pack.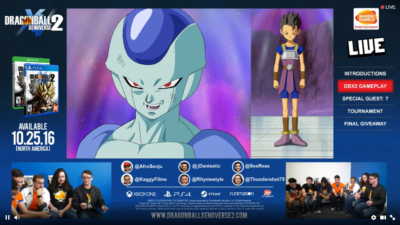 Frost and Cabba — characters from Universe 6 — made their debut in the Dragon Ball Super television series during the God of Destruction Champa arc.
The game's first downloadable content pack does not yet have a release date, but one is promised "to be announced soon."
Goku Black from the current Future Trunks arc of Dragon Ball Super was previously announced as a pre-order bonus.
Dragon Ball XENOVERSE 2 is in development for the PlayStation 4, Xbox One, and PC. In North America, the game will launch for consoles 25 October 2016 with a PC release following 28 October 2016. In Europe, the game will launch across all platforms 28 October 2016. In Japan, the game will exclusively launch on the PlayStation 4 console 02 November 2016.