Anime streaming service Daisuki has announced an initiative to provide additional simulcast streams of the Dragon Ball Super television series to an expanded audience, specifically targeting European countries.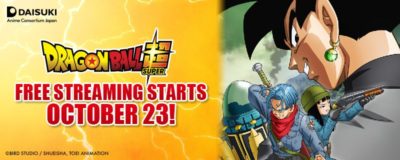 Streaming of Action-Packed Fan Favorite "Dragon Ball Super" begins!

TOKYO, JAPAN – October 21, 2016 – International anime streaming site DAISUKI.net will begin simulcasting the popular anime "Dragon Ball Super" soon after the newest episode airs in Japan on October 23 9:00a.m. (JST), October 22 5:00p.m. (PST), and October 23 1:00a.m. (BST), 2016.

Streaming Areas:
Aland Islands, Albania, Antarctica, Ascension Island, Australia, Austria, Belarus, Bosnia and Herzegowina, BQ Bonaire, British Indian Ocean Territory, Bulgaria, Canada, Christmas Island, Cocos (Keeling) Islands, Cook Islands, Croatia (Hrvatska), Curacao, Cyprus, Czech Republic, Denmark, Estonia, Falkland Islands (Malvinas), Faroe Islands, Finland, Former Yugoslav Republic of Macedonia, Gambia, Germany, Greece, Greenland, Guernsey, Heard and McDonald Islands, Hungary, Iceland, Ireland, Isle of Man, Jersey, Kiribati, Latvia, Libyan Arab Jamahiriya, Liechtenstein, Lithuania, Netherlands, Netherlands Antilles, New Zealand, Niue, Norfolk Island, Norway, Poland, Portugal, Republic of Moldova, Romania, Saint Martin (French part), Serbia, Sint Eustatius en Saba, Slovakia (Slovak Republic), Slovenia, South Georgia and the South Sandwich Islands, Spain, St. Helena, Svalbard And Jan Mayen Islands, Sweden, Tokelau, Ukraine, United Kingdom, United States, Virgin Islands (British), Yugoslavia

Languages:
Spain: English, Russian (delay)
Other countries: English, South American Spanish (delay), Russian (delay)

DAISUKI.net, in collaboration with Bandai Namco Entertainment, will have a special "Dragon Ball" campaign for fans, involving "Dragon Ball Xenoverse 2" game! We'll be announcing details soon, so stay tuned!

■ About "Dragon Ball Super"
"Dragon Ball Super" is a brand new anime series with an original story by original creator Akira Toriyama! The anime begins not long after Goku defeated his greatest enemy yet Majin Buu in a vicious battle and brought back peace to Earth. However, strange incidents begin occurring one after another around Goku and his friends. Not only do they meet God of Destruction Beerus, who has awakened from his long slumber, the warrior once feared as "The Cosmic Emperor" Frieza reemerges to take revenge. To add to the chaos, stars seem to be mysteriously disappearing around the vicinity of Earth. What is happening to the planet?
A promotional video has been made available in support of the upcoming streams. Following the debut of the simulcast this weekend, Daisuki will add episodes 1-46 weekly in batches of ten.
According to a report by Anime News Network, the New Zealand/Australia streaming service AnimeLab (not to be confused with the 1990s VHS fansub group "Anime Labs") will also provide a simulcast stream.