Following a brief announcement earlier this month in Saikyō Jump, last week's December 2016 issue of V-Jump has revealed an 02 December 2016 release date for the "long awaited" second collected print volume of Toyotarō's Dragon Ball Super manga.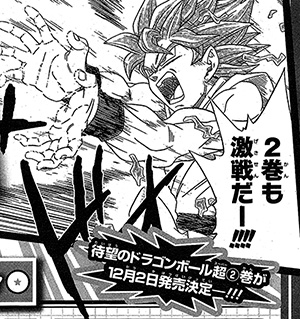 Unfortunately, there are still no specifics — such as a page count or chapter listing — provided in the announcement beyond the release date.
The first collected edition was announced back in February and saw its release in April covering the series' first nine chapters, one spin-off chapter, and a special interview between Toyotarō and original author Akira Toriyama.
Since this volume's release, another eight regular chapters and one more spin-off chapter have been released, with one more regular monthly chapter set to hit V-Jump by this second volume's December release.
The Dragon Ball Super manga began in June 2015 as a promotional tie-in for the television series. The manga runs monthly in Shueisha's V-Jump magazine, with the series' seventeenth chapter printed last week in the magazine's December 2016 issue. Illustrated by "Toyotarō" (in all likelihood, a second pen-name used by Dragon Ball AF fan manga author and illustrator "Toyble"), the Dragon Ball Super manga covered the Battle of Gods re-telling, skipped the Resurrection 'F' re-telling, and "charged ahead" to the Champa arc to act as further promotion for the television series. Viz is currently releasing free digital chapters of the series, and will release their own collected print edition beginning in May 2017.