Following a trickle of initial information — a timeframe followed by a specific release date followed by a price point — Shueisha has updated with a page count and digital release date for the second collected edition of Toyotarō's Dragon Ball Super manga.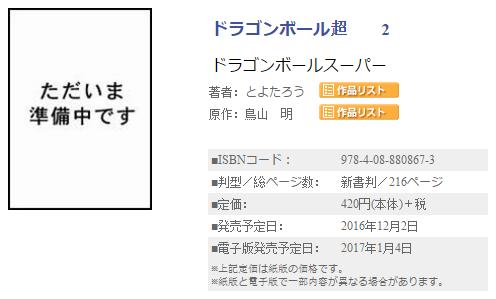 The actual chapter contents are still unannounced. Picking up where the previous volume left off, chapters 10 through 15 comfortably fit within the announced span of 216 pages; including chapter 16 would push it too far over the allotted number of pages, independent of any potential bonus content. However, this does still leave roughly 50 pages worth of content to fill.
The two-page bonus chapter from the 2016 Jump Victory Carnival attendee booklet seems like a safe bet (considering the 2015 chapter's inclusion in the first volume), leaving the remaining page space up in the air. The 10-page Dragon Ball XENOVERSE 2 comic from the international collector's edition packages remains unreleased, and could serve as potential filler content. The three 31-page Resurrection 'F' introductory chapters from early 2015 also remain unpublished outside of their original V-Jump printings.
The print edition will be released 02 December 2016 for ¥420 + tax. As previously indicated by its Amazon listing, Shueisha has confirmed an 04 January 2017 digital release date. The staggered release between print and digital editions has become common with Shueisha's collected editions.
The second volume is available for pre-order via CDJapan and Amazon Japan.
The first collected edition was announced back in February and saw its release in April covering the series' first nine chapters, one spin-off chapter, and a special interview between Toyotarō and original author Akira Toriyama. Since this volume's release, another eight regular chapters and one more spin-off chapter have been released, with one more regular monthly chapter set to hit V-Jump by this second volume's December release.
The Dragon Ball Super manga began in June 2015 as a promotional tie-in for the television series. The manga runs monthly in Shueisha's V-Jump magazine, with the series' seventeenth chapter printed last month in the magazine's December 2016 issue. Illustrated by "Toyotarō" (in all likelihood, a second pen-name used by Dragon Ball AF fan manga author and illustrator "Toyble"), the Dragon Ball Super manga covered the Battle of Gods re-telling, skipped the Resurrection 'F' re-telling, and "charged ahead" to the Champa arc to act as further promotion for the television series. Viz is currently releasing free digital chapters of the series, and will release their own collected print edition beginning in May 2017.